Altaro Free Webcast: What's New in Windows Server 2019
Altaro software is running a free webinar: what's New in Windows Server 2019. The timing, October the 3rd, could not be better as Microsoft Ignite lies right behind us and we can all use some help in putting that barrage of announcements in to context. That help is here and offered by industry experts like Andy Syrewicze, Rob Corradini and Symon Perriman.
So register here an get some insights, views and guidance from industry experts on the value of Windows Server 2019 and what this means to so many of us in the IT field. As our industry is changing and new balances are found, let me say that Windows Server 2019 will play a significant role in the next years building the future of IT.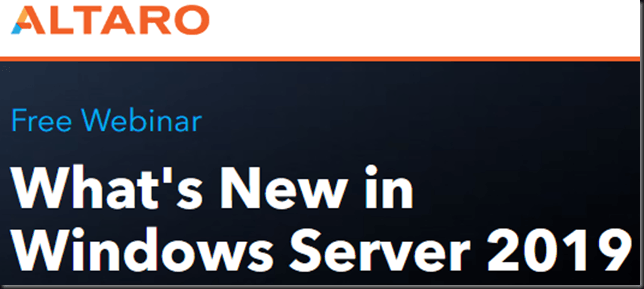 My take
The industries I advise know I advocate Serverless, containers and servers as well as PAAS & SAAS. My strength lies in the fact I know the IT stack. Compute, storage, memory and networks. I started my career developing code and as such I know code needs an excellent environment to run it so it can shine. I also know I don't know a lot. So I'm active in the community, attend conferences, listen and learn from other peoples and vendors their point of view and insights. You must avoid tunnel vision and echo chambers. But you also must grasp your own industry and business in order to make decisions and move ahead.
Observe, orient, decide and act in a never ending cycle. So register or Altaro's free webinar: what's New in Windows Server 2019 and get a head start in this process. I have registered and intent to attend unless work priorities prevent me from doing so. I most certainly hope not! See you there. Register here. It.s free, all you got to do is show up and invest some time in your own future.