I have the pleasure of doing a webinar on October 24th 2017 with two fellow MVPs. They are Andy Syrewicze from Altaro who organize the webinar and Thomas Mauer who's well know expert in the tech community and beyond on Cloud and Data Center technologies.
The subject of the webinar is 3 Emerging Technologies that will change the way you use Hyper-V. It's a panel style discussion amongst the 3 of us technology and trends that effect everyone in this business.
Public cloud computing platforms such as Azure and AWS
Azure Stack and the complete abstraction of Hyper-V
Containers and microservices: why they are game changers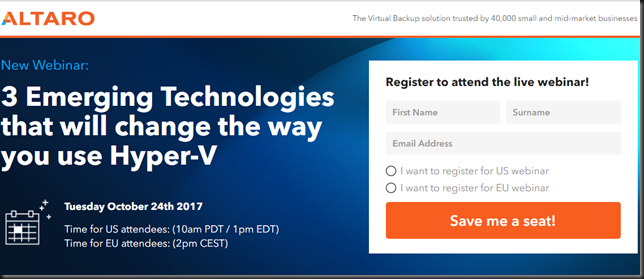 There will be time for questions and discussions as we expect the subject to be of great interest to all. For my part I'll try to look at the bigger picture of the technologies both from a product a service perspective as well as from a strategic point of view and a part of a doctrine to achieve an organizations goals.