You might have read my blog posts on the capabilities and the process of migrating to a Transparent Failover File Server. If not, here they are:
These are a good read with some advice from real world experience and in this post I'll offer some more tips. I've discussed the need to disable and get rid of short file names in my blog and offered other tips to prepare for your migration and get your file share LUNs in tip top, modern shape. But what if you run into short file name issues where you can seem to get rid of them?
Well here's 3 more things to check:
1) Get rid of the shadow copies used for Previous Versions
The reason you'd better get rid of them is that they can also contain short files names & way to long path or file names. We don't want them to ruin the party so we remove them all by disabling shadow copies on the LUNs to be copied. We can enable them again once the LUN is up and running in the new file cluster.
2) The logs indicate there are short file names you don't have access to
If the NFTS permissions on the folder & file structure are OK you should not have to much problems bar some files being locked by being in use. Rerunning the fsutil command prior to migrating with the server service stopped will prevent any connectivity and use of file shares by people ignoring the request to log of or shut down their clients or automated jobs that otherwise keep accessing them.
But you might still get some indications in the log file(s) that state you can remove certain file names.

There is the good old trick of running your command under SYSTEM. That those the job! That helps get rid of short file name instances of folders where you normally don't get access to. If system has rights you'll be fine whether it's a system folder or not.To do this the Sysinternals tools come in handy once again. You can launch a command prompt running under the NT AUTHORITYSYSTEM account using psexec.exe by running the following from a elevated command prompt:
psexec -i -s cmd.exe or psexec  -s cmd.exe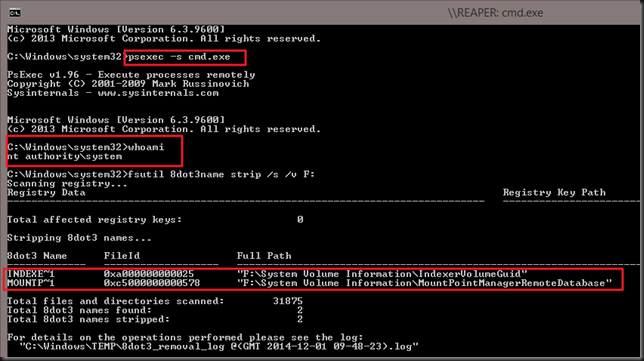 The-s switch runs the remote process in the System account. Psexec temporarily installs a service "psexec running psexesvc.exe" on the remote computer (or locally if that's what you doing) which is removed when the app or process that's running is closed. It's obvious now I hope why you need an elevated command prompt to run this command.
Now should you do this by default? Nope. Just when you need to and as always have a realistic backup plan, a way to recover when things go south.
3) Anti virus sometime prevents the removal of short file names
Disable Anti-Virus, sometimes it holds a temporary entry in the registry for the file involved. At least that's what I've seen as a transient issue in some of the large number of logs I gathered. Yeah, I ran a lot of fsutil against large NTFS volumes. What can I say. Due diligence pays off!
4) Run ChkDsk
Just make sure the volume is healthy and no repairs are needed. If your migrating from and older file server there might be outstanding issues and a check disk on volumes with lot's of files take time. Some of the ones I've dealt with had more that 2 million files on a 2TB LUN and it it can take 24 hours. Fun when you have 10 LUNs :-/