When you buy a DELL OEM based Kemp Technologies LoadMaster you might wonder who will handle the hardware updates to the server. Well Dell handles all OEM updates via its usual options and as with all LoadMasters Kemp Technologies handles the firmware update of the LoadMaster image.

Hardware wise both DELL and Kemp have been two companies that excel in support. If you can find the solution that meets your needs it's a great choice. Combine them and it make for a great experience. Let me share a small issue I ran into updating Kemp Loadmaster OEM Servers and Dell Firmware Updates with Lifecycle Controller
For a set of DELL R320 loadmasters in HA is was upgrading ( I not only wanted to move to 7.1-Patch28b-BARE-METAL.bin but I also wanted to take the opportunity to bring the firmware of those servers to the latest versions as that had been a while (since they had been delivered on site).
There is no OS that runs in those server,s as they are OEM hardware based appliances for the Loadmaster image. No worries these DELL servers come with DRAC & Lifecycle controllers so you can leverage those to do the firmware updates from a Server Update Utility ISO locally, via virtual media, over over the network, via FTP or a network share. FTP is either the DELL FTP Site or an internal one.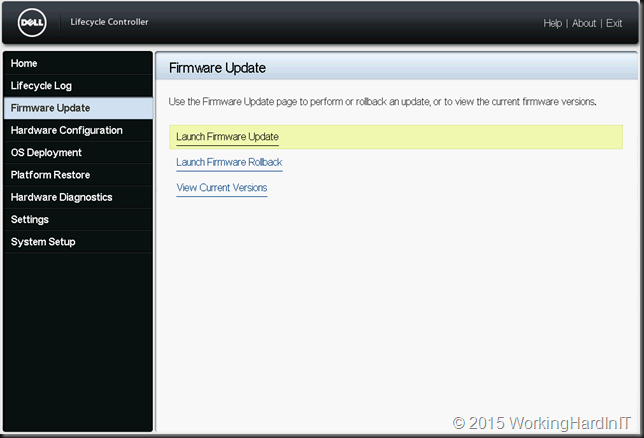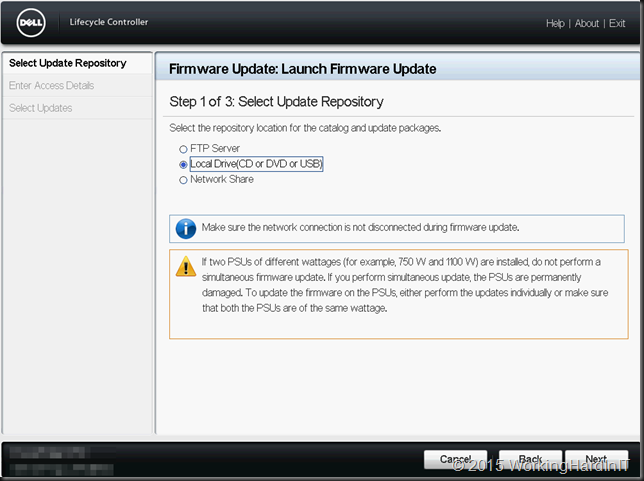 Now as I had just downloaded the latest SUU at the time (SUU-32_15.09.200.74.ISO – for now you need to use the 32 bit installers with the life cycle controller) I decided to just mount it via the virtual media, boot to the lifecycle controller and update using local media.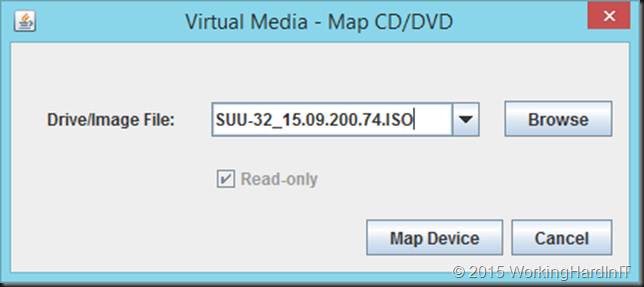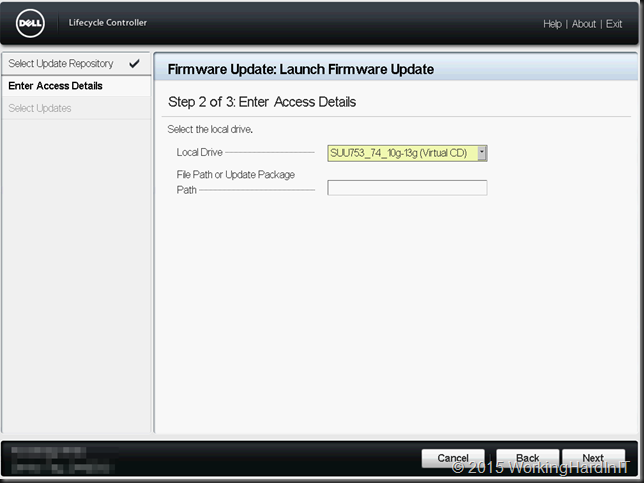 But I got stuck …
It doesn't throw an error but it just returns to the start point and nothing can fix it. Not even adding "/repository" to the file path . You can type the name of an individual DUP (32 bit!) and that works. Scanning the entire repository however wouldn't move beyond step 2 "Enter Access Details".
Scanning for an individual DUP seemed to work but leaving the file path blank while trying to find all eligible updates seemed not to return any results so I could not advance. The way I was able to solve this was by leveraging the DRAC ability to update it own firmware using the firmware image file to the most recent version. I just got mine by extracting the DUP and taking the image file from the payload sub folder.
You can read on how to upgrade DRAC / Lifecycle Controller via the DRAC here.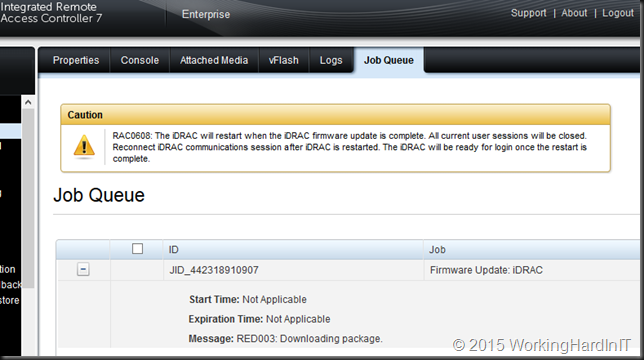 When you've done that, I give the system a reboot for good measure, and try again. I have found in all my cases fixes the issue. My take on this is that older firmware can't handle more recent SUU repositories. So give it a try if you run into this and you'll be well on your way to get your firmware updated. If you need help with this process DELL has excellent documentation here in "Lifecycle Controller Platform Update/Firmware Update in Dell PowerEdge 12th Generation Servers"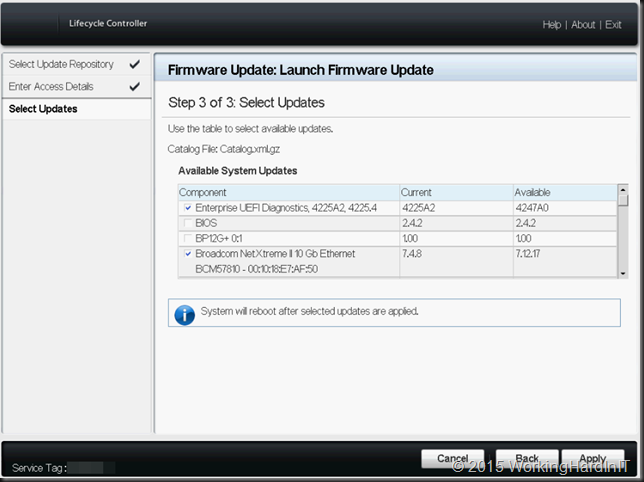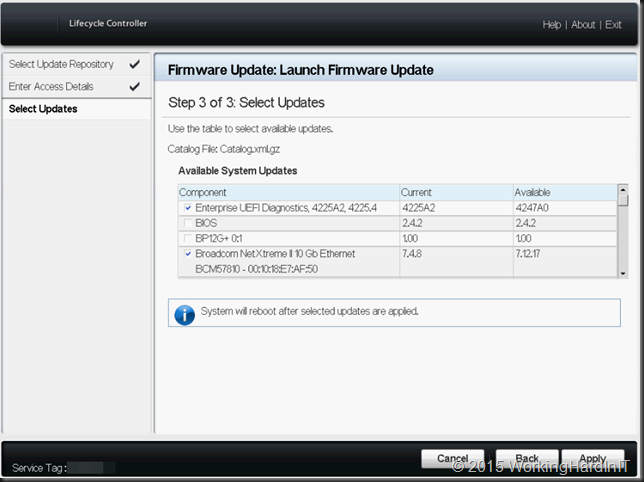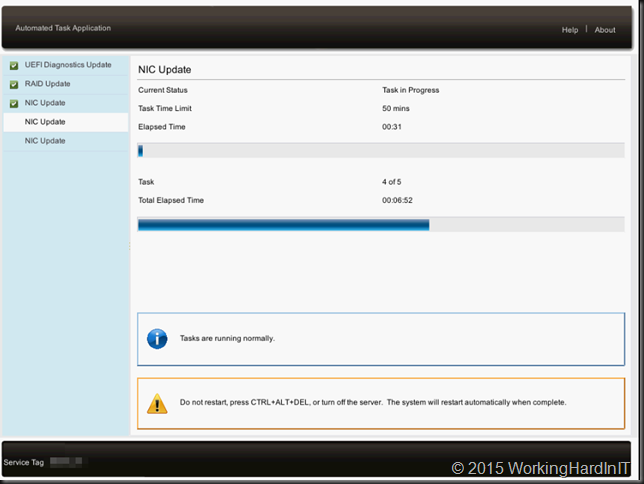 The end result is a fully updated DELL Server / Kemp Loadmaster. Mission accomplished. All this can be done from the comfort of your home office. A win-win for both you and your customer/employer. Think about it, it would be a shame to miss out on all the benefits you get from working in the cloud when your on premises part of a hybrid infrastructure forces you to get in a car and drive to a data center 70 km away. Especially at 21:21 at night.