Windows Server 2019 in place upgrade testing
In theory in place upgrade testing is easy. You just validate Microsoft's efforts and testing that went into the process. If it succeeds all is well. Well, not really. The amount of permutations in real life are so large it can never be done for all of them. But even today in this era of "services as cattle" they have a role to play. I would say, even more than before. That means that Windows Server 2019 in place upgrade testing is also important.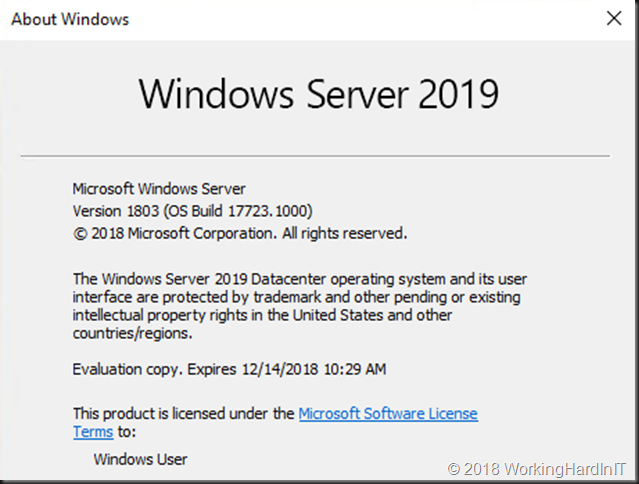 In place upgrade paths to Windows Server 2019
In-place upgrade allows an administrator to upgrade an existing installation of Windows Server to a newer version, retaining settings and installed features.
The following (Long Term Service Branch) LTSC versions and editions of Windows Server with their supported path for in-place upgrade are shown below:

Please note that when you are performing cluster operating system rolling upgrades this can only be done from N-1 to N. This means that you can only do those from Windows Server 2016 to Windows Server 2019.

The ability to perform cluster operating system rolling upgrades is just one benefit you get by keeping your environment current.
Conclusion
Currently Myself and a couple of fellow MVPs are busy doing some testing on "real" hardware. That means servers, the kind you'd use in a professional environment, not the PC lab. Testing on virtual machines rocks and those are heavily used in real life, but you can't test everything you need to verify hardware deployments. Think about S2D, Persistent Memory, SET, vRSS/VMQ/VMMQ etc.
Part of that testing is in place upgrades. Yes, there are times and places when I will avoid them, there are also moments where I leverage them. I do think they are important and they have their place. Doing them depends on the value it can offer.
Whatever you do, you test, you verify and your break stuff in the lab before casually on a Monday morning upgrading a cluster to a new version of the Operating System. I hope I don't need explain this anymore anno 2018? Or actually I do, we always have new talent join us and we all have to learn. So big tip, learning on the job doesn't always equal learning in production. That will happen anyway, but don't default to it.