Last month Carsten (MVP – Virtual Machine) & Kerstin Rachfahl (MVP – Office 365) visited me in my home town. Apart from a short visit to the historic center & a sushi diner amongst friends we also did an interview where we discussed our ongoing Windows Server 2012 Hyper-V activities. We're trying to leverage as much of the product we can to get the best TCO & ROI and as early adopters we've been reaping the benefits form the day the RTM bits were available to us. So far that has been delivering great results. Funny to hear me mention the Fast Track designs as a week later we saw version 3 of those at MMS2013. The most interesting to me about those was the fact that the small & medium sizes focus on Cluster in a Box and Storage Spaces!
While we were having fun talking about the above we also enjoyed some of the most beautiful landmarks of the City of Ghent as a back drop for the interview. It was filmed in a meeting room at AGIV, to whom I provide Infrastructure services with a great team of colleagues. Just click the picture to view the video.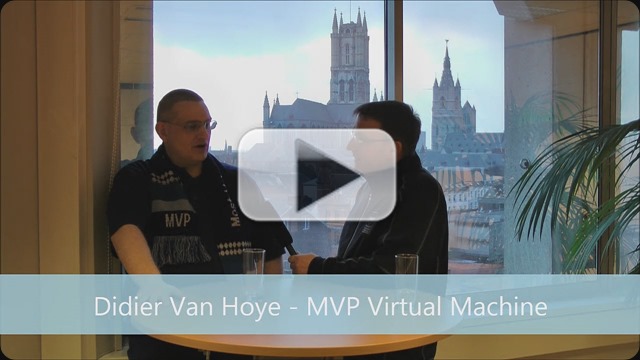 You can also enjoy the video on Carsten's blog http://www.hyper-v-server.de/videos/interview-mit-didier-van-hoye-ber-seinen-storage-netwerk-und-mehr/ All I need to do now is to arrange for Carsten to physically touch the Compellent storage I think.