I already mentioned that during the Experts2Experts Virtualization Conference I met a lot of great people and I presented on High Performance & High Availability networking for Hyper-V clusters (10Gbps goodness). Some of the people I met I already knew from the on line community and others were unknown to me until that event. Among the attendees we found some of the usual virtualization suspects in our community like Aidan Finn, Jeff Wouters, Carsten Rachfahl, Ronnie Isherwood.
Now Carsten Rachfahl is a MVP in Virtual Machine expertise but he's also a dynamic entrepreneur who shows a lot of initiative. Using social media he is really making in effort to get people & customers to notice important snippets of information by providing easy and fast access to them. He's very active as a speaker, on Twitter and on his blogs. On top of that he does podcasts and video interviews. For Hyper-V information go to http://www.hyper-v-server.de/ which you can also use as an entry point for his other sites focusing on several aspects of IT in the Microsoft sphere in Germany. Like cloud computing & Licensing. There you'll also find the videos of interviews on these subjects. It's quite an impressive endeavor.
Carsten took the opportunity to make some videos with all the above suspects on various subject and he recently released our interview.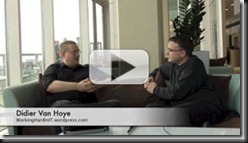 In this video we continued the discussion that Aidan started on CSV and we briefly touched on a subject you could make hour long documentaries about: storage options in Windows Hyper-V now and in the years to come. Enjoy!