I attended and presented at E2EVC 2015 in Berlin from June 12th to June 14th. The networking was a blast. No "marchitecure" bull shit or vendor fairy tales what so ever and lots of very open discussions on the realities we're seeing and facing in virtualization and cloud. Most account managers and esoteric presales would die a painful (but fast) death in this environment.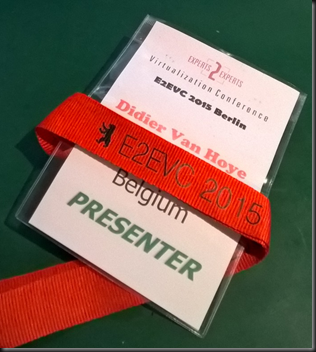 One session was with my Hyper-V Amigo buddy Carsten Rachfahl and was pure demo extravaganza, so no slides. My own session was "SMB Direct – The Secret Decoder Ring" and was an attempt to position this technology what by looking at the why and where followed by the how by who and when.
I hope a lot of people had at least a better understanding of SMB Direct, RDMA and DCB. The second aim was to take away the fear many people have of this tech by showcasing it in short demos. Time constraints where a challenge so it was not a 200 level session.
Please download the presentation here if interested.
Enjoy. If you have any concerns or questions, ask, and I'll try to answer.