If you have a virtual Loadmaster you gain a capability you do not have with an appliance: console access. You can have lost all network connectivity to the Loadmaster but you can still gain access over the Hyper-V console connection to the virtual machine. Virtual appliances are not the only or best choice for all environments and needs. When evaluating your options you should consider going for a bare metal solution like the DELL R320.

These are basically DELL servers and as such have a Dell Remote Access Card (DRAC) that allows for remote access independently of the production network. Great for when you need to resolve an issue where you cannot connect to the unit anymore and you're not near the Loadmaster. It also allows for remote shutdown and start capabilities, mounting images for updates, … all the good stuff. Basically it offers all the benefits of a DELL Server with a DRAC has to offer.

That means I have an independent way into my load balancer to deal wit problems when I can no longer connect to it via the network interface or even when it is shut down. As we normally telecommute as much as possible, either from the offices, on the road or home this is a great feature to have. It sure beats driving to your data center at zero dark thirty if that is even a feasible option.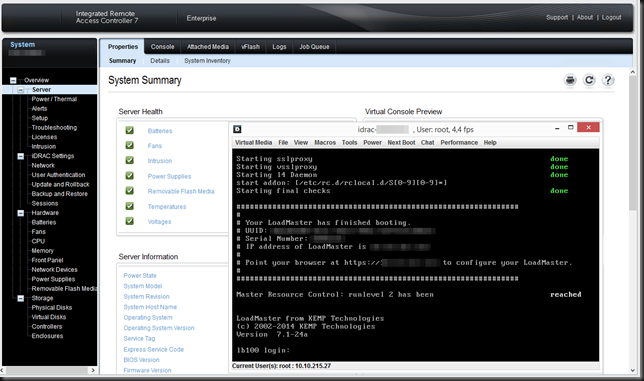 I know that normally you put in two units for high availability but that will not cover all scenarios and if you have a data center filled with DELL PowerEdge servers that have DRAC and you cannot restore services because you cannot get to your load balancers that's a bummer. It's for that same reason we have IP managed PDU, OOB capabilities on the switches. The idea is to have options and be able to restore services remotely as much as possible. This is faster, cheaper and easier than going over there, so reducing that occurrence as much as possible is good. Knowledge today flies across the planet a lot faster than human being can.