You might have noticed that Microsoft recently released some important hotfixes for Windows Server 2012 Hyper-V Clusters. These are You cannot add VHD files to Hyper-V virtual machines in Windows Server 2012 and Update that improves cluster resiliency in Windows Server 2012 is available
So how do you deploy these easily and automatically to your Windows Server 2012 Clusters? Cluster Aware Updating! Here's a screenshot of cluster Aware Updating in action deploying these hotfixes without a single interruption to the business services.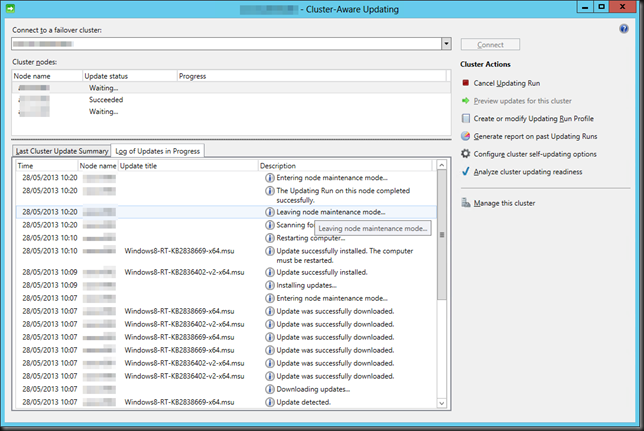 So what are you waiting for?Start using it

It will make your live easier, save time, and help you with continuous available infrastructure.
Here's a link to the slide deck of a presentation I did on Cluster Aware Updating in a TechNet webcast http://www.slideshare.net/technetbelux/hands-on-with-hyperv-clustering-maintenance-mode-cluster-aware-updating
We've been enjoying the benefits of Windows Server 2012 since we got the RTM bits in August 2012. I can highly recommend it to everyone.