Yes, you read that correctly, there was a Hyper-V Amigos Chat at the Grand Canyon. Last year, during the last week of October and the first week of November in 2015 my friend Carsten Rachfahl (@hypervserver) and I were in in the USA for Veeam's VEEAMON 2015 and the Microsoft Global MVP Summit. In between those two events, we – two of the legendary Hyper-V Amigos – had to telecommute. No problems for us, we're masters at remote working. We're agile, flexible, dynamic, resourceful and mobile so we drove to the Grand Canyon to muse on our thoughts and recorded some videos on our experience at VEEAMON 2015 and our first experiences with the Windows server 2016 Technical Previews so far.
The results are nothing but amazing footage of a Hyper-V Amigos chat at the Grand Canyon. Both Hyper-V MVPs, Veeam Vanguards and Dell Tech Center Rockstars discuss what they know best and love to do whilst on their way to the Microsoft MVP Summit in a roundabout kind of way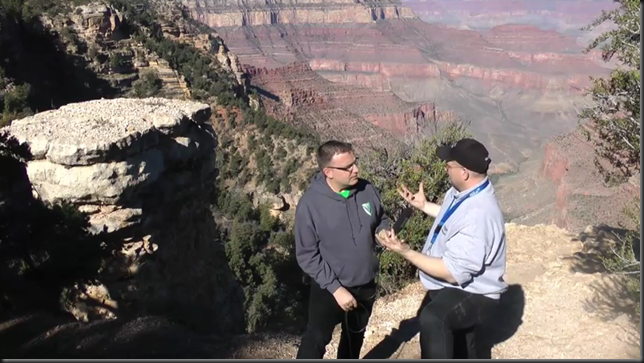 Enjoy people, have a great 2016. Click on the image above or follow this link:Hyper-V Amigos Chat at the Grand Canyon. More info on these technologies can also be found at http://hyper-v-amigos.net and http://hyper-v-server.de.