Win a fully paid trip to VeeamOn 2017!
Are you located in the EMEA region? Do you live to protect & recover the IT systems businesses depend upon in a 24/7/365 economy? Are you convinced you should really attend VeeamON 2017 but you have not been able to secure a ticket or get the budget approved to do so?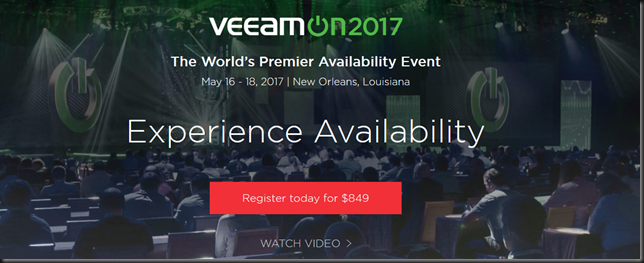 Convince me of your need to attend. Show me why you are the person that should really be at VeeamON 2017 but for some reason or mistake has been left behind. Why? Well, as a Veeam Vanguard who's attending as well, I get to offer you to enter a raffle to be able to attend. The package includes a fully paid trip to VeeamOn 2017. That includes your flight, hotel and conference attendance!
Interested?
I need you to send me a short explanation via my contact page on my blog why you need to be at VeeamON 2017 in New Orleans. I will only filter for valid answers in order to sort out anyone not treating this seriously. Those valid replies will go into the Veaam Raffle where the lucky winner will be drawn. Don't forget to include your full name so I can pass it along to Veeam with your e-mail address. The deadline is April 7th (CET). So don't delay!
So, for those people serious about attending VeeamON 2017 but didn't not get approval due to budget restrictions or management not will to let you go, this is your opportunity. With some effort and luck, you can step into an awesome world of techies that operate in an always on mindset. Those that live to protect IT systems so their businesses can thrive and if needed, survive when a calamity happens. You can come and learn with the best of the best.
Good luck to all!