Since Windows 2008 R2 and as such in Windows Server 2012 RD Gateway has a nice couple of new features in it's properties under the tab Messaging.
System Message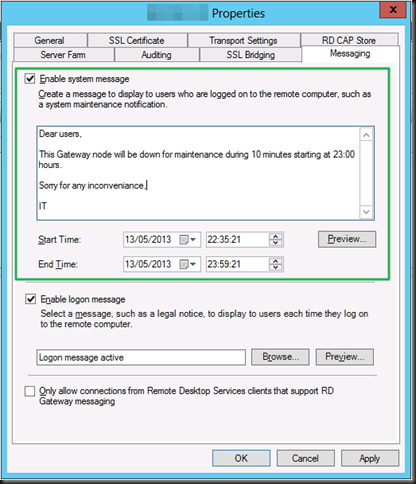 That's great as now you can warn logged on users of the gateway of any impending maintenance actions that otherwise might be a disconcerting loss of connectivity to them. Just go to the messaging tab and type in your message. Set the start and end date/time and that's all there is to it. A user that is logged or logs in during the specified time frame will see this window appear. I like the fact that we can communicate to the active users via the system message. It makes for a better experience of the service delivered.
Logon Message
Another option you have under the messaging tab is to to specify a logon message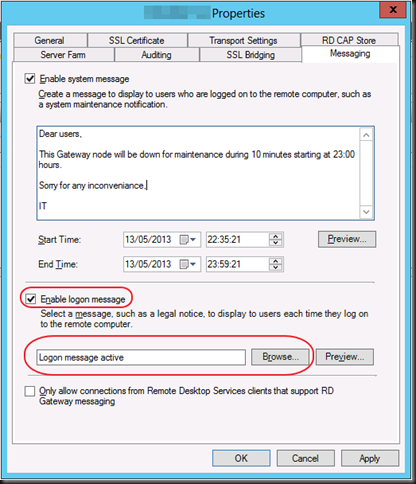 You simply type this into text file that you then browse to and apply so that it will be displayed.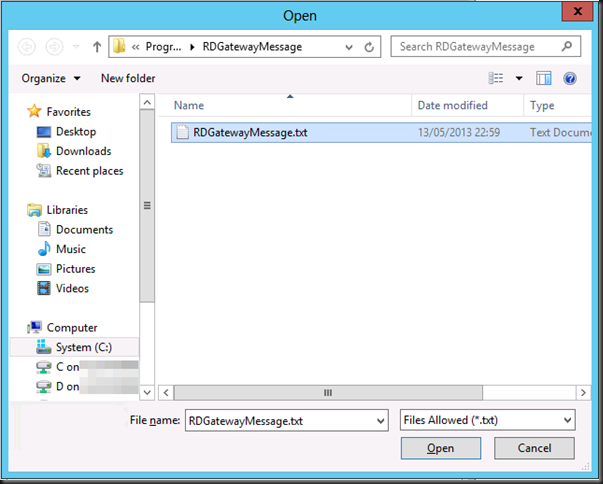 You have to browse and apply every time you edit the text file.
Below is a screen shot what a user logging on to a system via your RD Gateway would see. It all depends on the legal department of the manager what will go in here. Do note that you cannot continue until you accept the terms. This could be annoying to regular users after a while. That's why you have the option of selecting "Do not ask again unless changes to the policy occur". That should keep both legal and the users happy

.