Stay Relevant
On Tuesday, June 26, 2018 Microsoft hosts a virtual Windows Server Summit. It will help you get up to speed with many important capabilities in Windows Server (2016 – 2019). This is very much needed as I see even many integrators & service companies not doing enough with these capabilities. In many cases they are out maneuvered by their customers who move fast in regards to their on premises need just like they do for their hybrid & public cloud needs.
As a service provider and integrator your days are numbered if you're going to stick to slow cycles & slow down tactics when it comes to making money. The ecosystem is changing. As compute becomes a commodity you'll need to re-think how to deliver value.
Windows Server Summit
This virtual experience will help your with tips and tricks for modernizing your infrastructure and applications—regardless of whether you're running it on-premises or in the cloud.The featured speakers are well know in the Wintel ecosystem and are well positioned to bring your up to speed.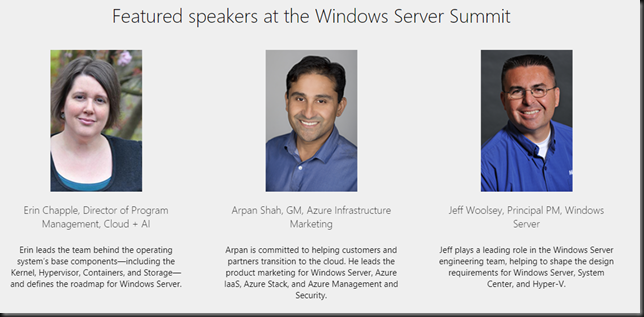 There are 4 track next to the keynote and I recommend you attend to "upgrade" your insights in Windows Server as there is a lot more to learn and investigate beyond what will be addressed here!

Hybrid scenarios with Azure
Security
Hyper-converged infrastructure (Storage Spaces Direct/S2D)
Application platform (containers on Windows Server)
The Windows Server Summit, on June 26th, starts at 18:00 UTC +1 and goes on until +/- 22:00. If you attend live you'll have the opportunity to engage in the Q&A. All sessions are recorded so you can watch them afterwards ass well. Grab the opportunity to stay relevant for your business and your customers. It's free and registration is only need if you want to receive updates only. Come as you are when you want to.