I was re-awarded as a Microsoft MVP – Cloud and Datacenter Management 2023-2024
While I was on vacation I received an e-mail that I was re-awarded as a Microsoft MVP – Cloud and Datacenter Management 2023-2024. Needless to say that this put a big smile on my face, despite my vacation coming to an end. Yes it is and remains an honor to be awarded and recognized as a global expert in the community by Microsoft. We all like a compliment and some confirmation that what we do is valuable. As always, it is also a humbling experience, as you meet quite a lot of very talented people which can make that old imposter syndrome flare up.

For those not in the know, MVP in this case stands for Most Valuable Professional, not Player 😊.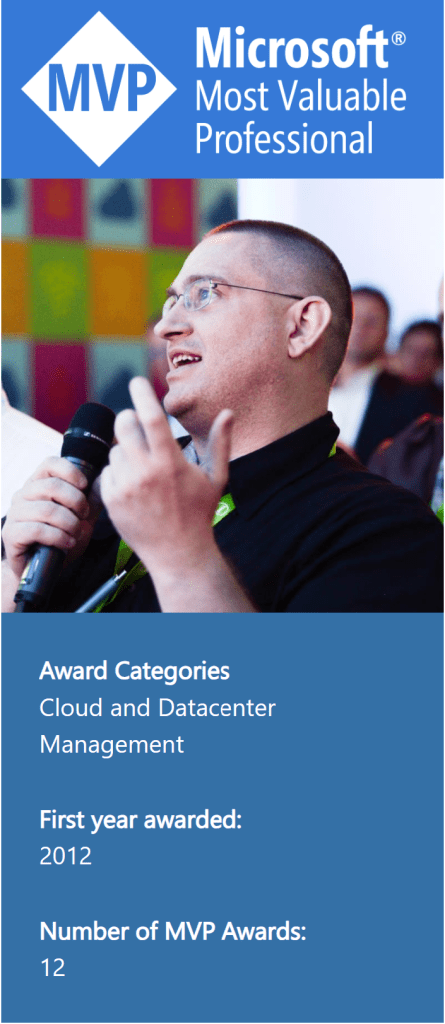 This is my 12th Microsoft MVP award and it represents a long journey through technology in the Microsoft ecosystem. In tech things seems to change fast and tend not to last long. But it is the learning you do along the way that last through time. Nothing I have learned has ever become completely obsolete and the experience and inights, even from learning VBA and Visual Basic in the early days still help me today as I talk to developers whose Azure infrastructure I help optimize and secure.
I am grateful for the recognition and support of both the community and Microsoft. Especially to the people who originally saw my potential and supported my first-ever nomination as well as those that support me today. The award itself is not the goal, it is a by-product of being active in the global community. Engaging in and with the community helps us all learn, progress, and succeed in our jobs by sharing experiences, knowledge, and insights.
It is all about community
Without any doubt, no matter how good and smart you are or how hard you work, we need others to grow and flourish. You do not contribute to the community in isolation. Sure, IT pros do a lot of technology work individually while testing and learning in the lab, troubleshooting, and delivering projects. Sharing and learning in the community happens with and thanks to others. People who give us opportunities, support, and help us. That means fellow technologists, employers, colleagues, vendors, and our audience asking questions that make us learn even more as well.
Aditionally, let's not forget about the people who are not in the spotlight. We get a lot of support from those providing locations, material, and logistic support. Many "smaller" businesses are often very generous in this regard. We are all "kids" getting raised in and by a village and in one form or another we all stand on the shoulder of giants. That's why we all owe at least a little gratitude to all the people and organizations that help us progress. So to all those who do, thank you!
Some tips for businesses that employ MVPs
In the end, here is to another year of community activity where we all share, learn, and grow together. You can always start today. There is no age limit or right time. I was a long time lurker before I became publicly active voicing my opinions and sharing information. You can be an introvert or extrovert, young or old, and anything in between. All you need is the willingness to share and learn. Furthermore, you don't need 50,000 followers on social media or whatever, you just need to make a difference.
Finally, I can only advise employers to support their community-minded employees. These are the people that learn, grow, adapt, and change with the needs and technology. Also, the incidental cost of travel, registration fees, and hotel nights are nothing compared to the return on investment. So let them attend some conferences and the MVP Summit
Well, to be honest, not supporting this would be penny-wise and pound-foolish. In the end that would mean you have no idea of the value of both developing and retaining talent. An MVP on staff will very easily safe you at least 30-40 days consulting per year. Think about that. Without any doubt, even at a medium rate of 125.00- $/hour means a serious ROI. Now add the cost of replacing such talent … it is a no brainer! You need to invest in on-board talent development anyhow and these are profiles that love to learn and share. That is a near to perfect as it gets people.