I just got back from a very successful Cloud & Datacenter Conference Germany, 2017 edition. I took some vacation days to go educate myself with the help of my peers and the excellent speakers. The people have a wealth of expertise and experience in real world solutions that address the challenges we face today. All this without marketing or too ego. Just pure knowledge sharing about the facts and realties. Take a look here at the wealth of industry experts that were attending and presenting.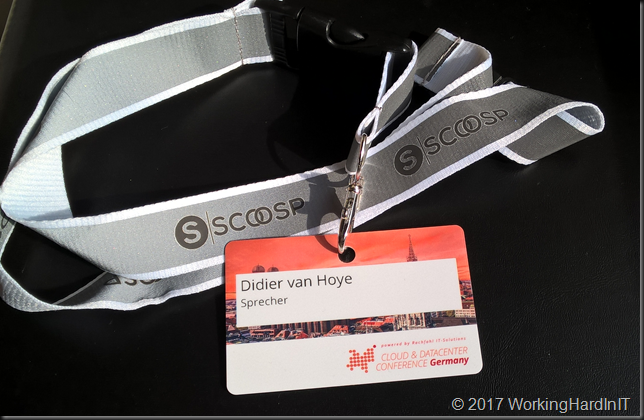 The attendees were amongst the better educated customers & partners you encounter in the field. This is great as this gives everybody good feedback and insight in the challenges we all face. I'd say there are definitely very pragmatic patterns in how businesses deal with the evolving cloud & datacenter ecosystem successfully. Cyber security is also part of that. I'm happy to see the insights shared with us by an expert lite Tudor Damian reminding us to always keep security in mind and showing us and that Microsoft is indeed making serious efforts to protect us in an IT environment they approach with the assumption that Ii t is compromised.
I did my part for the conference with a session on Failover Clustering Evolved (in Windows Server 2016) as well as with a presentation called SMB Direct – The Secret Decoder Ring for the Hyper-V Community day event the day before the conference. That was also awesome and I had a great response to the session and interest in our experiences with RDMA. Oh yes, I also got some hands on training in filming to the delight of my fellow MVPs

.
If it's up to me, I'll be back in 2018!