Just a quick blog post on the Veeam Vanguard program. The nominations for 2018 are open! That means that if you know people who would make a Veeam Vanguard you can nominate them. You can even nominate yourself, that's perfectly fine. It's not frowned upon, but it also doesn't change anything in terms of evaluation for the program.
Rick blogged on this yesterday on the Veeam blog in "Veeam Vanguard nominations are now open for 2018!" and gave some more insight of what the program is, tries to achieve and does. He also discusses the selection. The key take-away is that you cannot study for this and that it is not some kind of certification or such. Some of the current Vanguards were quoted on how they look at the program and one thing is constant in that. The fact that the people in these programs are contributors to the global tech community and it's about sharing and helping others getting the best out of their environment and their investment in Veeam. It also helps Veeam as they get a very communicative group of people to give them feedback on their offerings, both products and services. It's just one more tool that helps them get things right of fix thing when they got it wrong. Likewise understanding Veeam and their products better for us helps us make better decisions on design, implementation and operation of them.
You can have a look at the current lineup of Veeam Vanguards over here.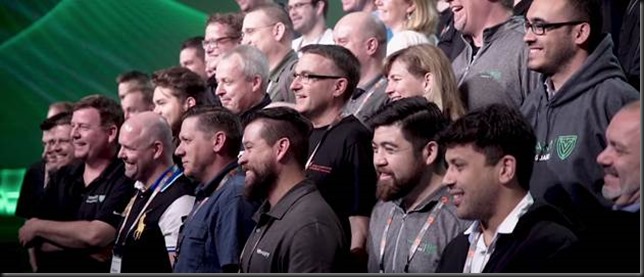 You'll find a short video on the program on that page as well. So go meet the Vanguards and find their blog, their communities and follow @VeeamVanguard and the hash tag #VeeamVanguard to see what's going on.

So, people, this is the moment if you want to nominate someone or yourself to join the Veeam Vanguards in 2018. You have time until December 29th 2017 to do so. I have always felt honored to be selected and have found memories of the events I was able to go to and I to this day I'm happy to be active in the Veeam Vanguard ecosystem. It's a fine group of professionals in a program of a great company.