For all you people waiting to roll out Windows 2008 R2 SP1 to your Hyper-V cluster here's a quick screenshot rich run through of the process. Some people claim you need to shut down the cluster services and shut down the guests but this is not the case.  You can do a rolling upgrade and your guests can stay on line on the other nodes, just use live migration to get them there. Now I do recommend to upgrade all the nodes tot SP1 as soon as possible and not staying a mixed Windows 2008 R2 / Windows 2008 R2 SP1 situation in your cluster. But this mixed situation makes upgrades of the nodes in the cluster possible without any down time for the guests (if you have live migration), which is the aim of having a high availability cluster.
Walk Through
Live migrate all the guests from the node you wish to upgrade to SP1. Make sure the host is fully patched and disable any antivirus services if you are running any. I always reboot the node before a major upgrade to make sure we have the server in a clean state with  no lingering reboots waiting  or processes can cause issues.
Navigate to the service pack 1 file for Windows 2008 R2, it's called windows6.1-KB976932-X64.exe and start it up: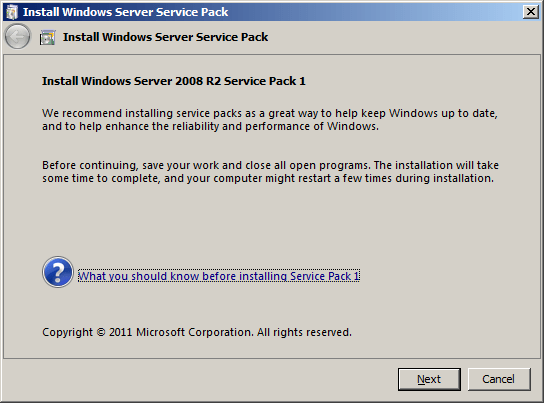 You'll have to accept the license terms: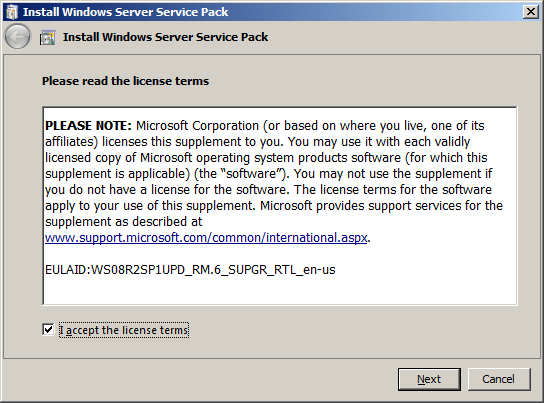 And then the preparation process starts:
It is now ready to start the upgrade and yes we want it to reboot automatically when needed: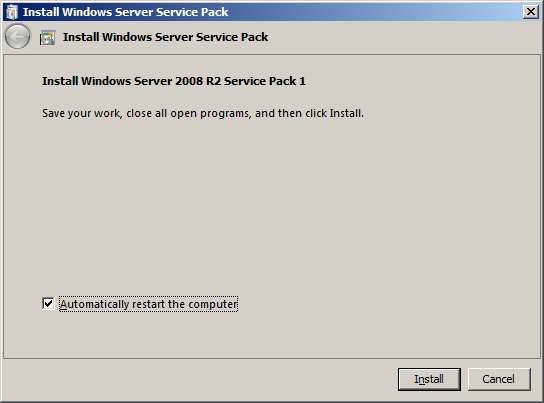 The upgrade process takes a while (about 17 minutes on my lab servers):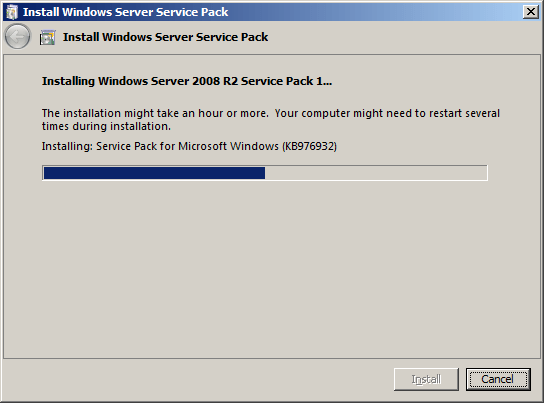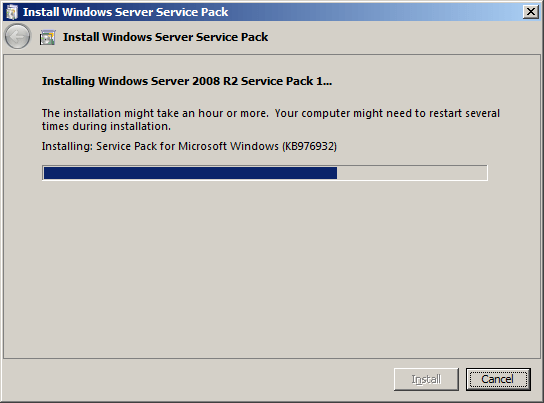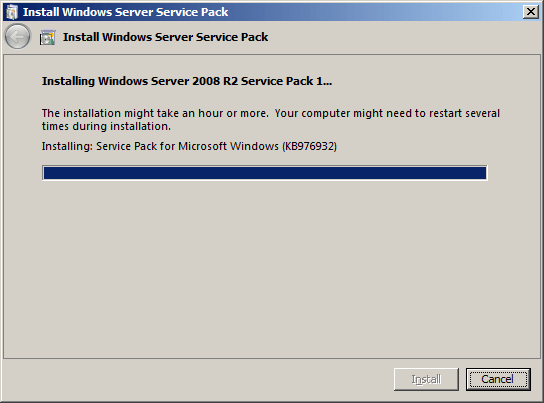 When it's done it will reboot and bring you back to the logon screen. Multiple reboots might be needed to complete the upgrade process depending on what's running on your server. In this case, we are dealing with dedicated Hyper-V nodes.
View when connected to the console
View when connected via RDP

After logging on you are greeted with this window: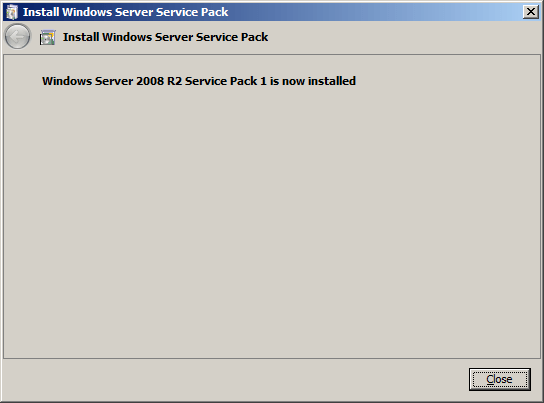 And yes this is indeed the case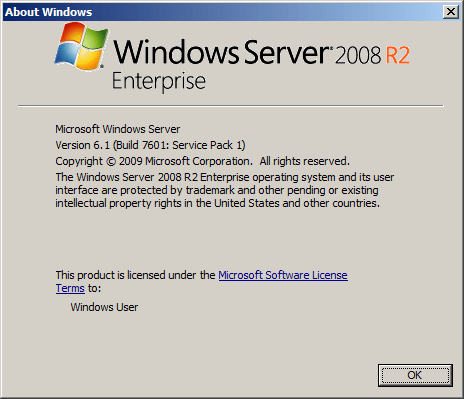 Reboot included the entire process took about 22 to 23 minutes. In the setup event log you'll find these messages:
Initiating changes for package KB976932. Current state is Absent. Target state is Installed. Client id: SP Coordinater Engine.
Package KB976932 was successfully changed to the Installed state.
Note: if an extra reboot is required you'll see an extra entry in between these stating: A reboot is necessary before package KB976932 can be changed to the Installed state.
When you have a cluster with nodes running both W2K8R2 TM and W2K8R2 SP1, mixed situation so to speak,  you'll see the following notification in the cluster events: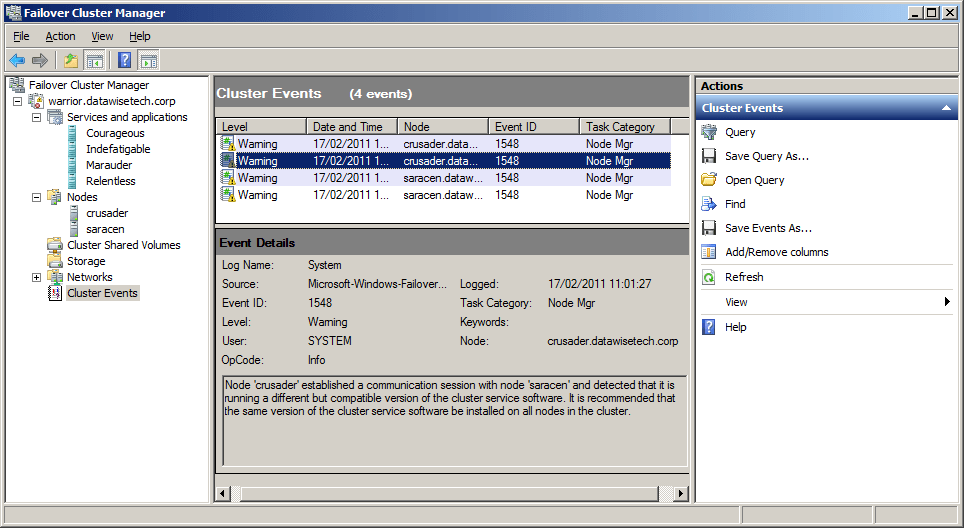 You can live migrate the guest from the next node to the node already upgraded to SP1 and than repeat the process. You keep doing this until all your nodes are upgraded.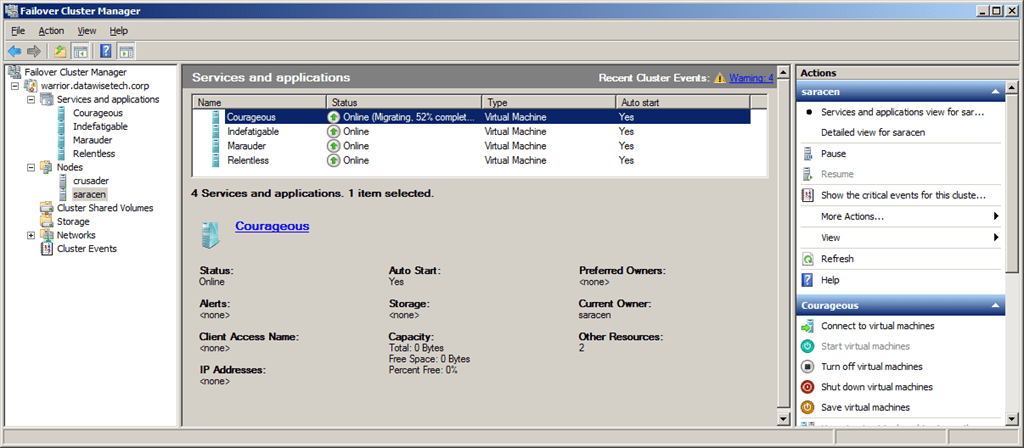 As a final recommendation, I would suggest waiting until you get the SCVMM2008R2 SP1 bits is you use this product before you upgrade your clusters especially when using this with SCOM2007R2 PRO Tips. Otherwise, you don't need to wait just realize that until you have SP1 for SCVMM2008 R2 you won't be able to use the new functionality for Hyper-V. In production, I would not recommend using the RC1 for this.
Please do not forget to update your guests with the new SP1 version of the Hyper-V Integration Components. This is needed to be able to use the new features like Dynamic Memory & Remote FX. The Windows 2008 R2 RTM version of the Integration Components is  6.1.7600.16385: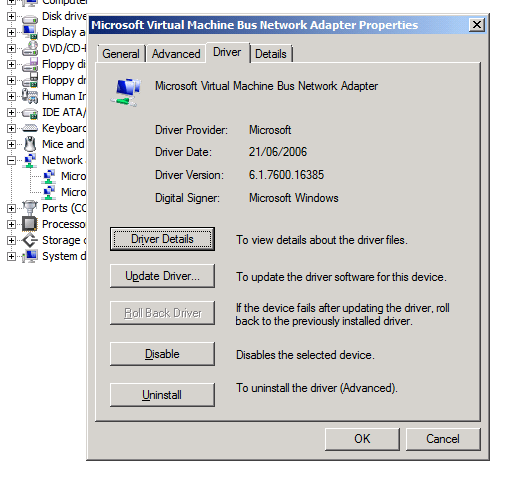 You can do this using Hyper-V Manager through selecting "Insert Integration Services Setup Disk"  and running the setup, this will require a reboot.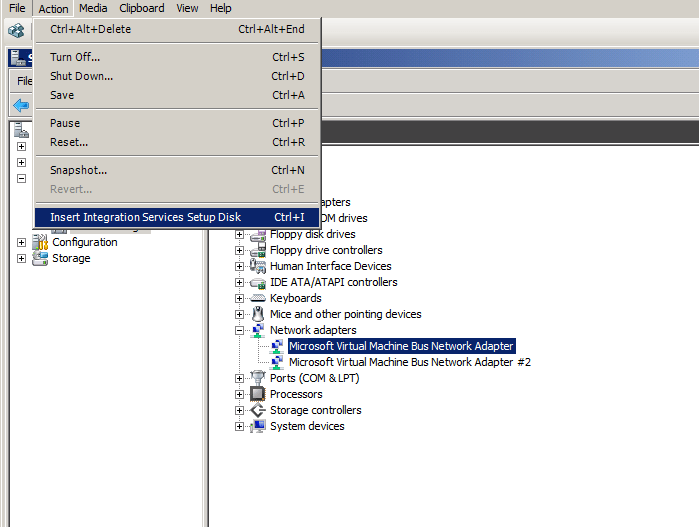 Click to start the upgrade process.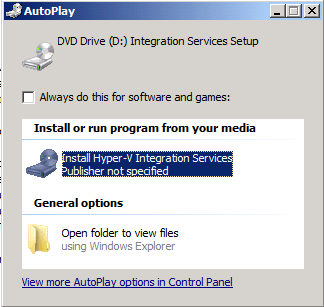 It will ask to upgrade or repair the previous version:

Work in progress: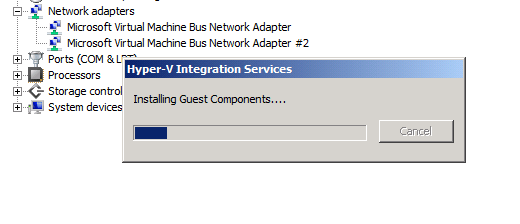 Done and asking for a reboot:

SCVMM2008R2 can also be used, here you shut down the guest before updating the virtual guest services as it's called in SCVMM2008R2. It can be annoying that the nomenclature differs. The good thing here is that you can upgrade multiple guest using VMM2008R2. Hans Vredevoort did a blog post on this here: http://www.hyper-v.nu/blogs/hans/?tag=windows-server-2008-r2-sp1.  After the upgrade you can see that the version of the Integration Components  for Windows 2088 R2 SP1 is  6.1.7601.17514: