The last few months I spent some of my down time and commute time reading a book. A paper one actually. It's Greg Schulz's "Software-Defined Data Infrastructure Essentials". It is as the sub title states about cloud, converged and virtual fundamental server storage I/O tradecraft.
It is not a book you'll read to learn about a particular technology, product or vendor. It is a more holistic approach to educating people in todays IT landscape. That vast area of expertise in which all the considerations around storage in a modern IT environment come together. Where old and new, established and emerging ways of handling storage IO for a variety of use cases meet and mix.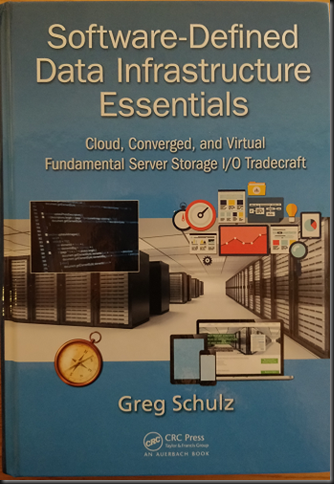 Reading the book helps to become more well versed in the subject and takes us out of our product or problem specific cocoons. That the main reason I'd recommend anyone to read it. I'm impressed by how well Greg managed to write a book on such a diverse subject that is accessible to all levels of expertise.The depth and the breadth of this subject make this quite a feat. On top of that this book is usable and valuable to both novice and experienced professionals. I have said it before (on Twitter), but if I was teaching IT classes and needed to bring the student up to date in regards to the software defined cloud data center data considerations this would be the text book. It acknowledges the diversity of solutions and architectures in the real world and doesn't make bold marketing statements. Instead it focuses on what you need to know and consider when discussing and designing solutions. I wish many IT manager, consultant and analyst would attend my fictional class but I'd settle for them reading this book and learning about a big part of what they need to manage, It would serve them well and help understand concerns other involved parties might want to see addressed.
For me an extra benefit was that I enjoy talking shop with Greg but I only get those opportunities on rare occasions during conferences. As such, this book gave me some more time to read his views and insights. That's the best next thing.