This morning at work, with a cup of coffee, I was glancing over the e-mail and was greeted by "ADVANCE NOTIFICATION – Microsoft Out of Band Security Bulletin Release July 20, 2015"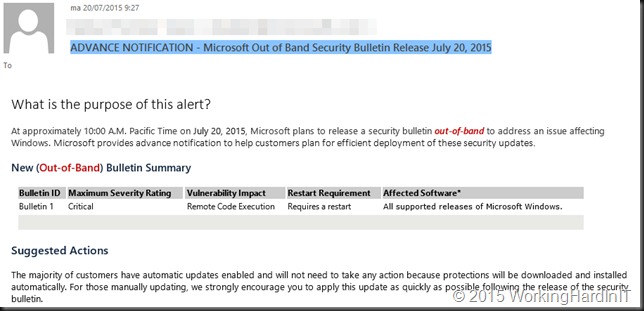 So Microsoft will release an emergency Out-of-Band (OOB) security update today that is valid for all windows versions and deals with a remote code execution vulnerability. It's marked as critical but there is very little other information for the moment.
Just now it became available via MS15-078: Vulnerability in Microsoft font driver could allow remote code execution: July 16, 2015.
This security update resolves a vulnerability in Windows that could allow remote code execution if a user opens a specially crafted document or goes to an untrusted webpage that contains embedded OpenType fonts. To learn more about the vulnerability, see Microsoft Security Bulletin MS15-078.
This security update is rated Critical for all supported releases of Microsoft Windows. For more information, see the Affected Software section.
Windows Server 2012 R2 Datacenter
Windows Server 2012 R2 Standard
Windows Server 2012 R2 Essentials
Windows Server 2012 R2 Foundation
Windows 8.1 Enterprise
Windows 8.1 Pro
Windows 8.1
Windows RT 8.1
Windows Server 2012 Datacenter
Windows Server 2012 Standard
Windows Server 2012 Essentials
Windows Server 2012 Foundation
Windows 8 Enterprise
Windows 8 Pro
Windows 8
Windows RT
Windows Server 2008 R2 Service Pack 1
Windows 7 Service Pack 1
Windows Server 2008 Service Pack 2
Windows Vista Service Pack 2
The funny thing is that is shows up as important and not as critical in Windows Update.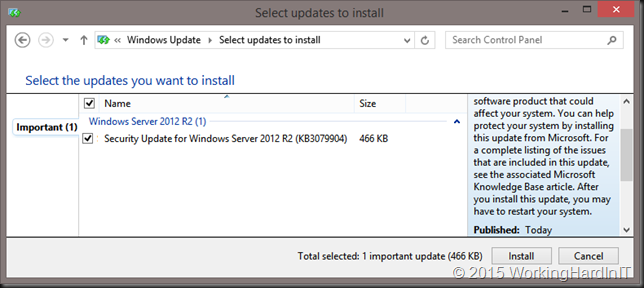 Get you're due diligence done before rolling it out but don't delay it for to long! It's a critical one!