Aidan Finn, Damian Flynn, Patrick Lownds and Michel Luescher wrote a reference work about Windows Server 2012 Hyper-V.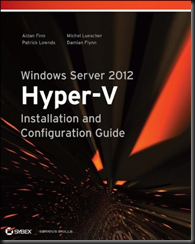 I kindly suggest that you add this to your professional library as soon as possible. Unless you're part of our IT Pro team, who'll find a couple of copies on their desk as soon as Amazon can deliver them, you'll need to ask Santa Claus to bring you one. If Santa Claus doesn't like you, buy it yourself. For the help you'll get out of this it's a steal. You see, I know the authors and a reviser (Hans Vredevoort). And I assure you, reading what these guys have to tell on this subject is truly standing on the shoulders of giants

.  Reading this book allows you to tap into their collective brainpower and knowledge on this subject, which is extensive. These guys are part of the Hyper-V community and they live in this stuff!
So if you want to learn about Windows Server 2012 Hyper-V fast and effectively grab this book (pre order it here on Amazon). It's full of guidance, explanations, examples and scripts to get you going in the right direction from the moment you start working with Hyper-V. This is a career boosting (and protecting) guide for all of us to leverage.
Thank you guys!