In this Episode Carsten and I look at a single host deployment with Storage Spaces on Windows Server 2016. We create a "Hybrid" disk just like in Storage Spaces Direct by combining SSD & HDD in a storage Tier. We were very happy to discover that ReFSv3.1 does real time tiering.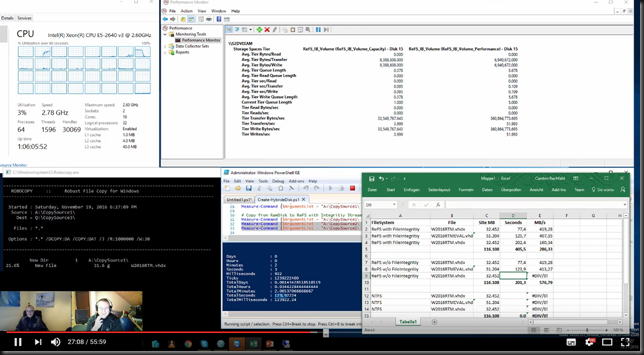 We're very excited about this because we want to leverage the benefits if Veeam Backup & Replication 9.5 brings by leveraging ReFSv3.1 (Block Cloning) in regards to backup transformation actions and Grandfather-Father-Son (GFS) spaces savings. To do so we're looking at our options to get these benefits and capabilities leveraging affordable yet performant storage for our backup targets. S2D is one such option but might be cost prohibitive or overkill in certain environments.
ReFS v3.1 on non-clustered Windows Server 2016 hosts bring us integrity streaming, file corruption repair with instant recovery as protection against bit rot, the performance of tiered storage and SMB3 as a backup target at a great price point.
We encourage you to watch the video and see for yourself. As always, we had fun and hope your can learn something together with us, the Hyper-V Amigos