On Thursday May 12th 2016 the inaugural edition of the Cloud and Datacenter Conference Germany was held in Dusseldorf. The new conference is the result of a long time wish and dream of the driving force behind the organization of it, Carsten Rachfahl from Rachfahl IT Solutions. When Carsten asked me to come over to speak and attend I was on board and I got the honor of presenting on what's new and enhanced in Failover Clustering In Windows Server 2016.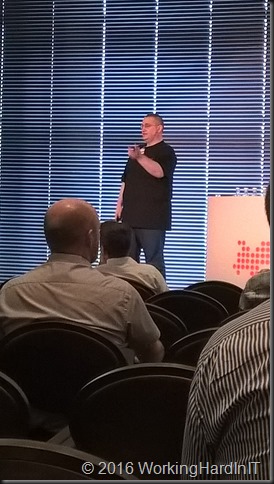 The conference surpassed all expectations. The organization was impeccable. Just like the supporting infrastructure for speakers and sponsors, which was top notch. Catering was probably one of the best I've ever seen at a conference. All of this helped make the goal of the conference, presenting valuable information to the attendees and provide for networking opportunities, a success.
The quality of the speakers and the content of the sessions was matched by the interest and enthusiasm of the attendees for the technologies presented. It was a perfect fit. This was made possible by Carsten his vision on what he considers to be a great conference. This vision was brought to live by the hard work of his company co-workers, with the aid of the sponsors, the speakers and the trust of the attendees had in this conference for them to spend their time and money to attend.
As a speaker and attendee it was a great experience. The support was excellent and even the PowerPoint template was easy to use and clear of superfluous clutter. We got everything we needed to present in perfect conditions to a receptive audience. The mood was a happy one. People were having a good time, learning and networking all day long.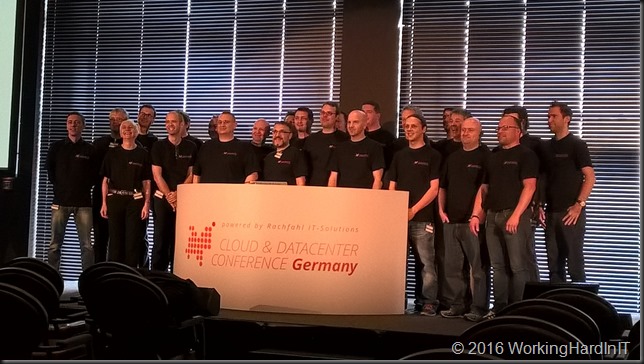 To Carsten and team: well done and thank you! I'm looking forward to attending and speaking again next year as this conference is a new gem to the IT public in the DACH region.
Carsten has built his company Rachfahl IT-Solutions into one of, if not the very best, experts in regards to Hyper-V, Storage Spaces, Windows and Private Cloud in Germany. They share this expertise through their community efforts. Great people to work with!