I am a Veeam Vanguard 2016
I have the distinct pleasure to share with you that I am a Veeam Vanguard 2016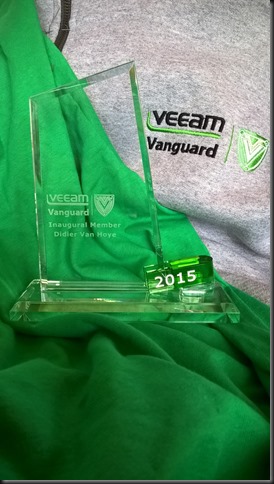 I received this news earlier in my mailbox. This means I can add a token to my inaugural member trophy soon.
Personally I have always enjoyed working with the Veeam products, Veeam as a company and the employees. Why? Quality. The fact they truly support their products and they acknowledge they exist because they help customers deal with their needs is what makes it work. When a product works and helps us get the job done I'm not shy about sharing my experiences and opinions to help out others.
That doesn't mean I, as a customer, am the emperor at Veeam but it does mean I'm valued and they listen to the feedback I have. Be honest, don't hold back, but never be "vicious" and a good company will welcome what you have to say. The have high standards when it comes to supporting their customers without failing their support engineers. It's a balance you need to find, and they have found it. It only augmented my opinion of them. They are very professional and I enjoy the interactions I've had with their managers, strategists, evangelists and developers.
Those are the discussions and interactions that are both very educational, interesting and fun to do. So I'm looking for more of that now that I have been renewed as a Veeam Vanguard for 2016!