When it comes to defragmenting CSV it seemed we took a step back when it comes to support from 3rd party vendors. While Windows provides for a great toolset to defragment a CSV it seemed to have disappeared form 3r party vendor software. Even from the really good Raxco Perfect disk. They did have support for this with Windows 2008 R2 and I even mentioned that in a blog.
If you need information on how to defragment a CSV in Windows 2012 R2, look no further.There is an absolutely fantastic blog post on the subject How to Run ChkDsk and Defrag on Cluster Shared Volumes in Windows Server 2012 R2, by Subhasish Bhattacharya one of the program managers in the Clustering and High Availability product group. He's a great guy to talk shop to by the way if you ever get the opportunity to do so. One bizarre thing is that this must be the only place where PowerShell (Repair-ClusterSharedVolume cmdlet) is depreciated in lieu of chkdsk.
3rd party wise the release of Raxco Perfect Disk 13 SP2 brought back support for defragmenting CSV.
I don't know why it took them so long but the support is here now. It looks like they struggled to get the CSVFS (the way CSV are now done since Windows Server 2012) supported. Whilst add it, they threw in support for ReFS by the way. This is the first time I've ever seen this. Any way it's here and that's good because I have a hard time accepting that any product (whatever it does) supports Hyper-V if it can't handle CSV, not if you want to be taken seriously anyway. No CSV support equals = do not buy list in my book.
Here's a screenshot of Perfect disk defragmenting away. One of the CSV LUNs in my lab is a SSD and the other a HDD.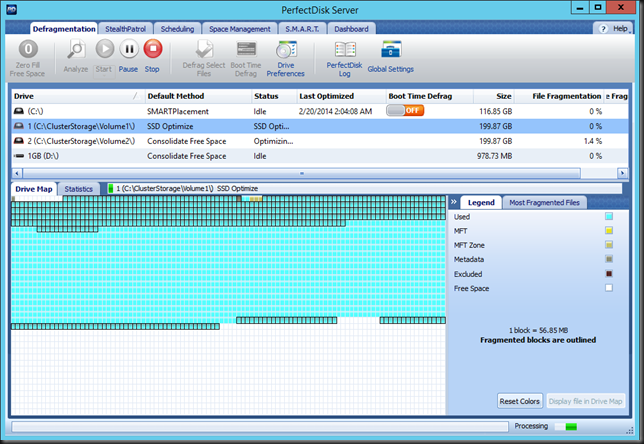 Notice that in Global Settings you can tweak the behavior when defragmenting optimization of various drive types, including CSVFS but you just have to leave the default on unless you like manual labor or love PowerShell that much you can't forgo any opportunity to use it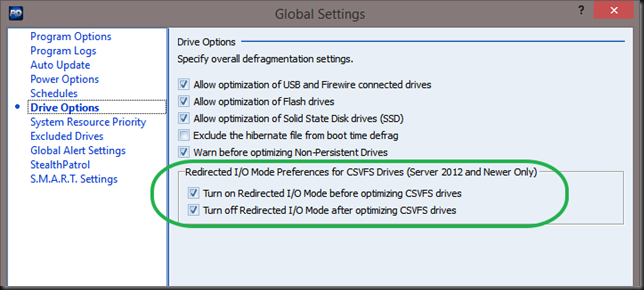 Perfect disk cannot detect what kind of disks you have behind the CSV LUN so you might want to change the optimization method if you're running SSD instead of HHD.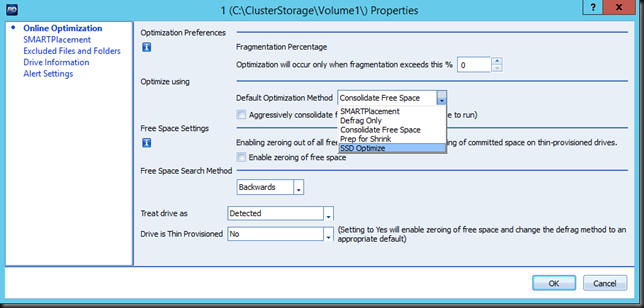 I'd love for Raxco to comment on this or point to some guidance.
What would also be beneficial to a lot of customers is guidance on defragmentation on the different auto-tiering storage arrays. That would make for a fine discussion I think.