Introduction
In this blog we'll walk you through the process of migrating a Windows Server 2008 R2 Hyper-V Cluster to a Windows Server 2012 R2 Hyper-V Cluster in another Active Directory domain. You are reading part 1.
Migrating A Windows Server 2008 R2 Hyper-V Cluster To Windows Server 2012 R2 Hyper-V Cluster In Another Active Directory Domain – PART 1
The source W2K8R2 Hyper-V cluster is a production environment. To test the procedure for the migration we created a new CSV on the source cluster with some highly available test virtual machines with production like network configurations (multi homed virtual machined). This allows us to demonstrate the soundness of the process on one CSV before we tackle the 4 production CSVs. Do note that in this case the two clusters do share the same SAN. If not we can move the storage, copy the data, replicate between SANs or use VEEAM Replica (see part 2 for more info).
Preparing the source W2K8R2 Hyper-V Cluster virtual machines & Cluster
Before we begin, I always make sure I have no Hyper-V snapshots  anymore on virtual machines I migrate. It prevents any issues on that front an while Windows Server 2012 R2 is better than before dealing with snapshots I prefer to have a little possible points of concern before I start such an operation.
Go to Failover Cluster Manager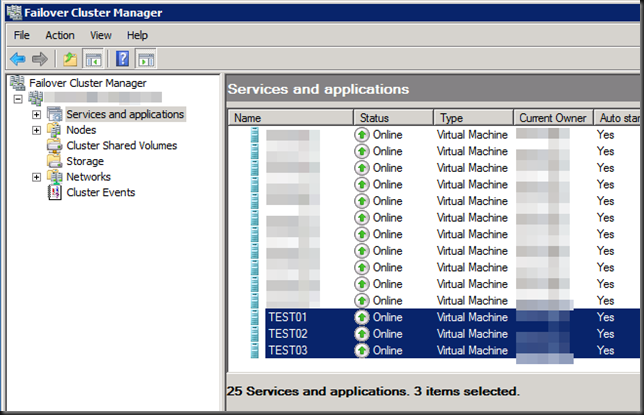 and shut down the virtual machines on the CSV you want to migrate.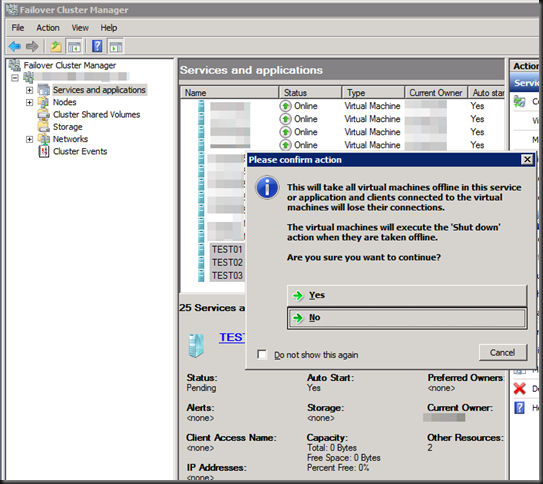 You'll see them pending whilst they are shutting down …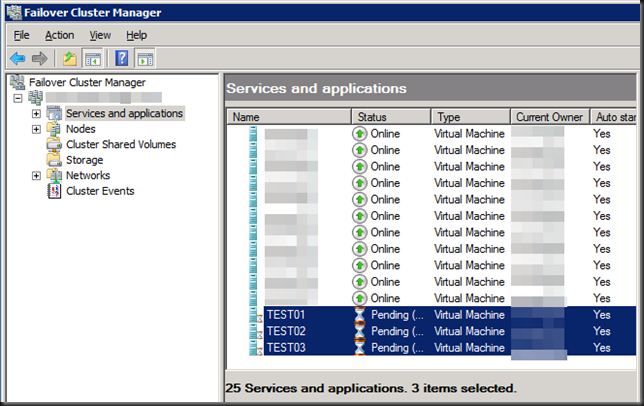 And when they are fully stopped we'll removed the form the cluster.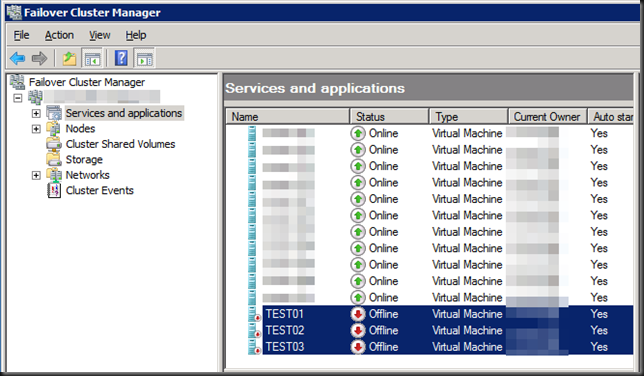 To do so, delete (scary word) the virtual machines on our CSV that's going to be migrated from the cluster, which makes them no longer high available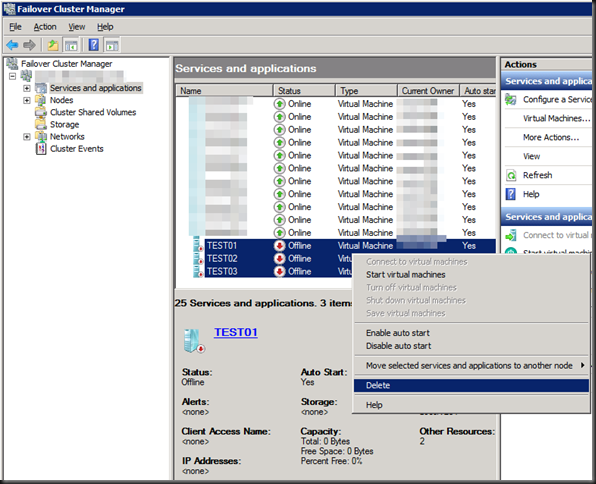 To do so you'll need to confirm that this is what you want to do.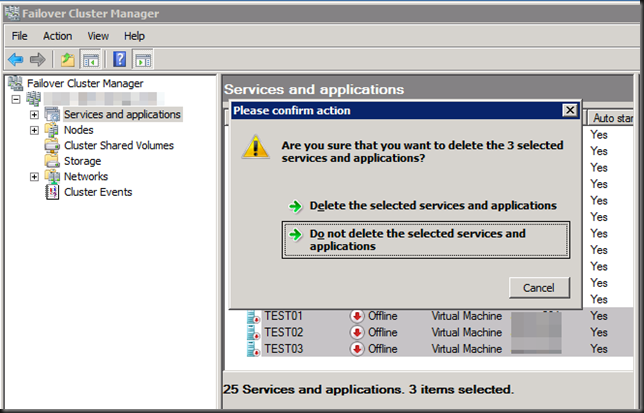 In Hyper-V Manager we see that the virtual machines are indeed of line. As the virtual machines reside on cluster / CSV the path to the hard disk, config files etc is indeed under C:ClusterStorage.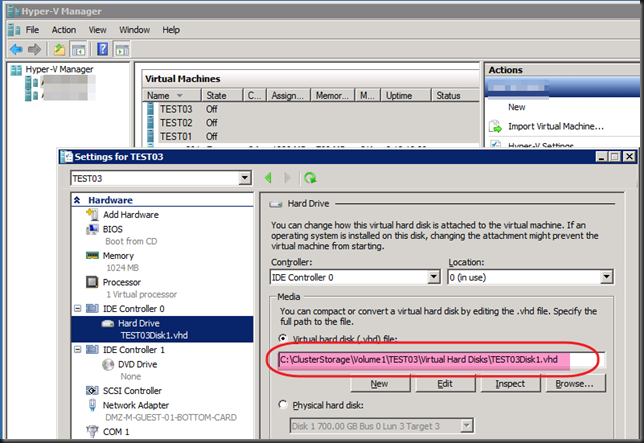 We just close the Hyper-V Manager GUI. We will NOT export the VMs to import them on the new cluster. Why?
This is not necessary as since Windows Server 2012 and as such also in R2 we can import them with the option to register them in place. No export is needed for this.
Due to the fact the the is no longer there you cannot import virtual machines that have been exported from Windows 2008 R2 directly into Windows Server 2012 R2. This is due to the fact that the WMI v1 namespace was deprecated in Windows Server 2012, and then removed in Windows Server 2012 R2.  When exporting a VM from Windows 2008 R2, the WMI v1 namespace was used that resulted in an .exp file to represent the exported virtual machine. In Windows Server 2012 (R2) a new WMI namespace (version 2 or rootvirtualizationv2) leverages an improved import/export model. This allows for registering the VMs in place as said in point 1. In Windows Server 2012 the version 1 WMI namespace was still there which allowed for importing of Windows Server 2008/R2 VM's. In Windows Server 2012 R2 the version 1 namespace has been removed. So YOU CANNOT import virtual machines that where exported from Windows Server 2008/R2 into Windows Server 2012 R2. The workarounds are described here: http://blogs.technet.com/b/rmilne/archive/2013/10/22/windows-hyper-v-2012-amp-8-1-hyper-v-did-not-find-virtual-machine-to-import.aspx.
Now the combination of point 1 and 2 is what is used by the Copy cluster roles wizard in Windows Server 2012 R2. That works within a domain but not across separate AD Domains as in our case. But don't worry. All this means is that we need to do some work manually and that's it. That's what we'll describe in part 2 of this blog. Do realize you want to do this in one go as that ensures you have the least possible down time. In production don't do part 1 of the blog on Monday and part 2 on Thursday or so

.
Read on here Migrating A Windows Server 2008 R2 Hyper-V Cluster To Windows Server 2012 R2 Hyper-V Cluster In Another Active Directory Domain – PART 2