I had a very interesting discussion with a fellow virtualization expert & strategic advisor at E2EVC Rome 2013. We discussed many issues and the topic came up that we see way too many potentially strong organizations sub come to "death by meetings". Instead of fixing this they are treating the symptoms and are declaring the symptoms to be "illegal". It's almost pandemic. You really need to opt out of this this madness for the sake of the company and getting work done.
I think we need to take this further. Bar reverting to the tactics of a UK manager who locked all meeting rooms and took the keys away whilst telling his staff to stop meeting and start working, we should implement these rules:
There is an absolute maximum of 5 hours meeting per 8 hour workday. Work less than full time? Adjust accordingly. This is non negotiable for anyone. You must decline any meeting that violates this rule. You must not strive for this maximum.
You must decline any meeting that has no agenda.
No meeting can have more than 5 attendees unless a very valid reason and need is motivated in the agenda. If not, you have to decline the meeting.
Meetings have to be planned in advance & cannot be made permanent. That is reserved for councils or meetings of the board.
Everyone, from the lowest pay grade to the top manager hast to abide by these rules
Teleconferencing is a perfectly valid way of meeting and is included in these 5 hours.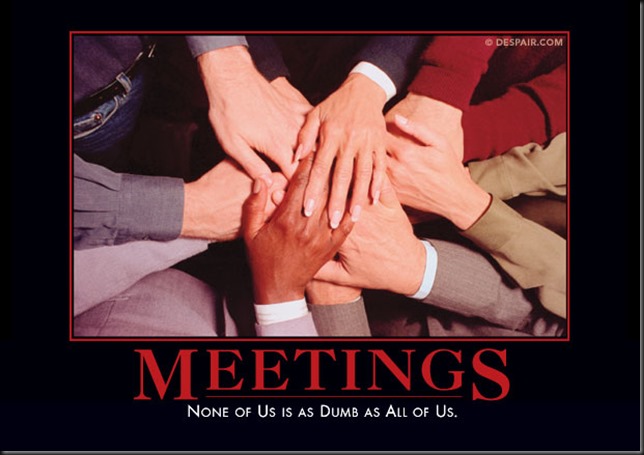 People, really, stop meeting for 8 hours a day. It's scary so many companies can't get a grip on this. Your thoughts?