VIRTu Alley Online Symposium
vKernel (now part of DELL) is kicking of 2013  with the VIRTu Alley Online Symposium. It runs over two days and focuses on virtualization and cloud management.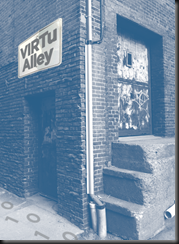 When
VIRTu Alley takes place on Tuesday, January 15th from 10:00 – 13:00 EST and on Wednesday, January 16th from 10:00-13:30 EST. Don't forget it's EST. Meaning that you need to add 5 hours if you're in GMT (Dublin) or 6 Hours if you're in GMT +1 (Brussels)
Where
From the comfort of your office & home 

Agenda
Go to the Virtu Alley web page and have a look at the agenda for both days. you'll see they've mananged to line up some great speakers. Some of them I know personally. Aidan Finn and Damian Flynn (MVP and published authors) are both presenting on day 2 just like myself. Aidan on what's new & improved in Windows Server 2012 Hyper-V and Damian on Network virtualization. I will be speaking on Advanced Hyper-V Maintenance with Cluster Aware Updating.
It's Free
The event itself if free but you do need to register for each day on which you want to attend sessions.
See you there!