Introduction
Why the AirConsole 2.0 Standard? in IT, you need to configure or troubleshoot network devices every now and then, such as routers, switches, firewalls, … all these have a serial connection for initial setup, troubleshooting or upgrades.
Working at a network rack or in a network room is often tedious and bad for you to very non-ergonomically balance a laptop while managing cables and typing. That is where the Airconsole comes in for me. There are other use cases such as for a permanent setup as a serial server. We also have those, but personally, the Airconsole 2.0 Standard is a handy piece of portable kit for me to have available.
The Airconsole 2.0 Standard
I am using the Airconsole 2.0 Standard. They have different versions and editions (bigger battery, Low Energy versions, etc). For my purposes the standard edition gets the job done.
It offers both Bluetooth and WiFi connectivity, but it also has a RJ45 up-link. This makes it very flexible. Especially combined with the configuration options via the web interface that allows for many network scenarios. I must say I find the lack of TLS for the web interface my biggest criticism.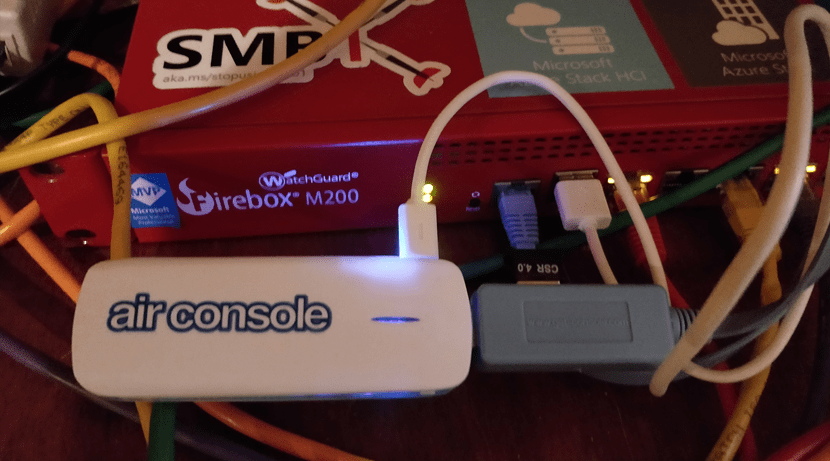 I got the standard edition as I have enough RJ45 to serial adapters lying around. It is easy enough to set up for anyone who has previous basic networking experience.
Using the Airconsole 2.0 Standard on Windows
Next to the apps for mobile devices (Smartphones and tablets with IOs or Android), you can use it on your laptop which will be the most used option for me. A smartphone is nice for a quick check of something. For real work, I prefer a laptop or desktop.
Bluetooth
Bluetooth does not require drivers to be installed. That just works out of the box. It adds the needed COM ports using the built-in Windows Serial Port Profile drivers. Just pair the AirConsole with your device and you should see the Bluetooth COM ports come up.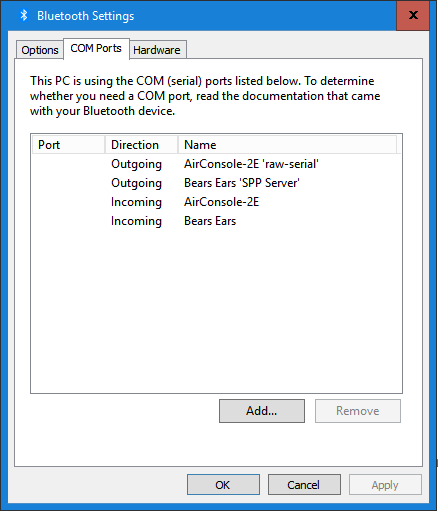 If you don't succeed at first, try again. Bluetooth can be a bit finicky at times.
Wifi
The WiFi option requires a driver to be installed on your Windows OS. While the drivers are a bit older they do work well with recent editions such as Windows Server 2019 and Windows 10 as well as older operating systems.
There are a couple of types of this product. Make sure you download the correct drivers and software. For the Airconsole 2.0 Standard, you can find it here, you need to install Apple Bonjour for Windows. First of all, Unpack the zip file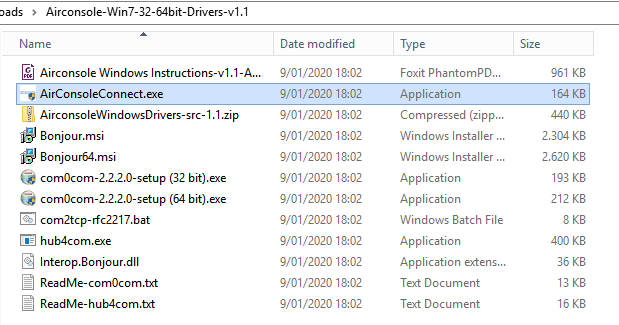 Now, install Bonjour64.exe (I'm hoping no one is still stuck in the 32-bit world). It is very weird for me to install this on Windows which is normally kept free of apple bloatware. But this is for a good cause. After this, you install the com0com-2.2.2.0-setup (64 bit).exe. This will create the first COM port pair (they make the link between your device and the actual serial port). You can add more pairs with different settings to have them ready for your most-used devices.
Connecting to your console via WiFi
Before you go any further make sure you connected your WiFi to the Airconsole-2E WAP.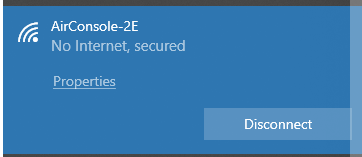 Without connectivity, nothing much can will happen. Once that is done launch the AirConsoleConnect.exe with admin privileges. You can now select the COM port you want to map the Airconsole to from the COM port combo box. All you need to do is click connect.
This is me connecting to the Firebox M200 CLI over WiFi. I have selected to show the debug dialog.
Varia
If both WiFi and Bluetooth are available WiFi is preferred and uses as it gives better performance.
Plugin the USB charging cable to a USB port on the network device is possible
You can add virtual COM port pairs for WiFi and customize those to your hears content.
Via http://192.168.10.1 you can manage your AirConsole. You can configure the network settings (subnet, DHCP, DNS), configure your WiFi (SSID, Network mode, channel, etc.), change the password, upgrade the AirConsole, etc. Pretty nice. As said above, in this day and age we'd hope for TLS 1.2, but we have not https capabilities at all, which is a pity. But then, this is not a permanent setup.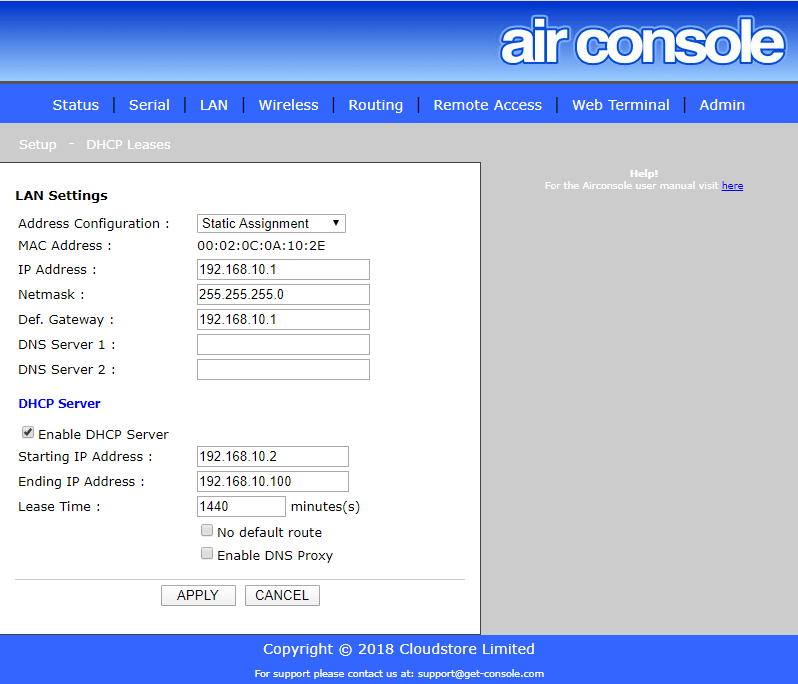 The AirConsole is a handy piece of kit to have around. It is more versatile then I figured when I first got it and with the options available can turn it into a nice serial server.