Introduction
My permanent & home lab run 100% on Windows Server 2019 when it comes to infrastructure. AD, DNS, DHCP, 3rd party infra management servers (WiFi controllers, SMS Gateways, net monitoring tools, …). Why, well when it comes to practicing staying current & avoiding tech debt I practice what is preach. And I don't need to have 20 analysts & management meetings to do so. What is need to know if whether it is supported, whether it works and that I know and understand the implication and benefits. One of the thing to test: raise forest and domain functional level to Windows Server 2019
Running Windows Server 2019 Active Directory
As I'm running Windows Server 2019 Active Directory for 100 percent all is ready to go. It's a lab remember. A lab with backup actually. Yes, even my lab. So I am ready to pull the trigger. When I went to raise the forest and domain functional level to Windows Server 2019 (Insider build at the time or writing) I got  a little surprise: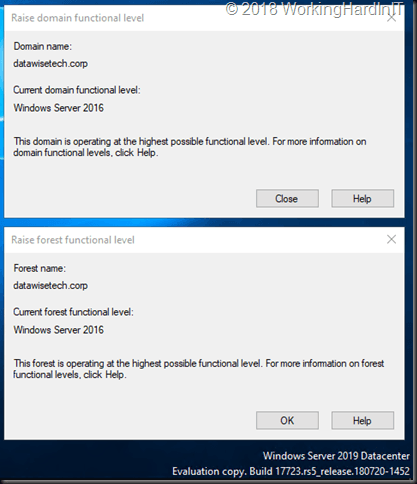 Well, that's a first! Why can't I opt to raise the forest and domain functional level to Windows Server 2019? As it turns out it's is just not there. Not yet and maybe not ever. Well the changes to the Active Directory schema were not huge to put it mildly. I went from 87 to 88 to in the permanent lab forest. It was a modest change.
Conclusion
That some kind of "functional "level don't get raised has happened before. Not in AD, but in DFS for example in Windows Server 2016 you still run at Windows 2008 mode for the name spaces and that was a jump from Windows Server 2000 mode! As Windows Server 2019 has not yet gone RTM there is no way of knowing if the forest & domain functional level Windows Server 2019 will be there at that time.
Some might like this as it means there won't be much application compatibility to worry about. Exchange is one of the most "delaying" factors in moving whole sale to newer AD versions. Sometimes they even change their minds (E2K10SP3 with RU's & Windows Server 2016 AD was supported for about 3 months before it changed in the compatibility matrix on line). Some other AD integrating 3rd party software might also cause considerable delays.
On the other hand, sometimes I want to block older domain controllers form being installed. In dedicated & specifically managed AD environments where you want to avoid any deviation form this it's a handy way of enforcing this. Anyway we'll see how this ends up at RTM. Meanwhile we'll keep an eye on the previews as I have 17554 to look forward soon to play with at night.