Introduction
Hyper-V offers 3 ways of managing or tweaking the CPU scheduler to provide the best possible configuration for certain scenarios and use cases. The defaults normally work fine but of certain conditions you might want to tweak them for the best possible outcome. The CPU resource controls at your disposal are:
Virtual machine reserve – Think of this as the minimum CPU "QoS"

Virtual machine limit

– Think of this as the maximum CPU "QoS"
Relative Weight – Think of this as the scale defining what VM is more important.
Note that you should understand what these setting are and can do. Threat them like spices. Select the ones you need and don't overdo it. They're there to help you, if needed you can leverage all three. But it's highly unlikely you'll need to do so. Using one or two will server you best if and when you need them.
In this blog post we'll look at the virtual machine limit.
Virtual Machine Limit
The virtual machine limit is a setting on the vCPU configuration of a virtual machine that you can set to limit the % of CPU resources a virtual machine can grab from the host. This setting limits the vCPU, preventing it to use more than the defined maximum percentage. The default percentage is 100.
Let's look at some examples below based on a simple 4 core host with a VM.
On a 1 vCPU virtual machine with a virtual machine limit of 100% this means it can grab the equivalent of compute time slices of maximum 1 CPU on the host. Which is 25% of the total system CPU resources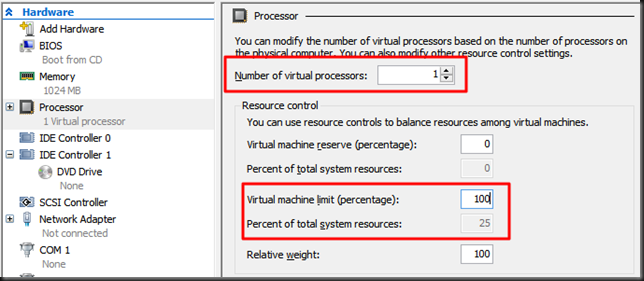 So in case of a home lab PC that has 4 cores you can see that setting the virtual machine limit to 100% means it's limited to 100% of the total system CPU resources.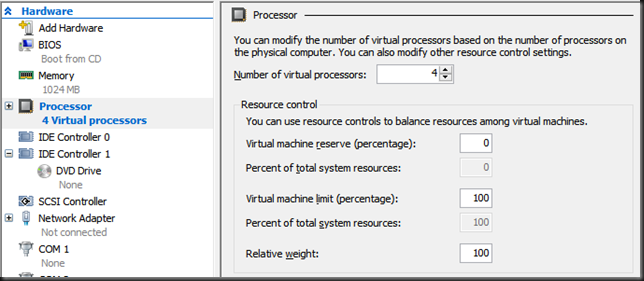 When I set the number of vCPUs to 2 this drops to 50% of the total system CPU resources.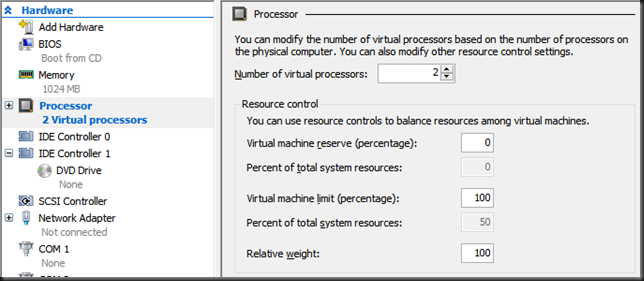 Now by playing with the virtual machine limit you can configure the desired maximum of the total CPU system resources a VM can grab. A 2 vCPU VM with 60% as a virtual machine limit get 30% of the total system CPU resources at the most on 4 CPU host.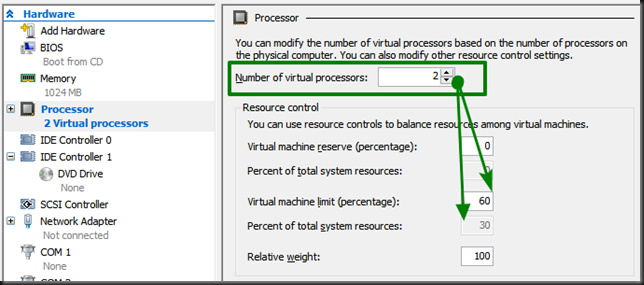 Use cases
When you're worried about run away virtual machines due to either misbehaving applications or developers who tend to run CPU stress tools in the guest and you really want to cap them to a certain limit without reducing the number of vCPUs (which they might need for testing parallelism, NUMA awareness) this might be a tool to use.
Limitations
This setting is always enforced. Even if a host has 32 cores and is only using 40% of them, a virtual machine could consume more CPU cycles without causing issues it won't be able to. It's a hard cap that's always enforced.
The setting is enforced per vCPU. This means that when a single threaded app in a 4 vCPU virtual machine consumes the virtual machine limit it is capped even when the 3 other vCPU are totally idle. So it's not 30% of all vCPUs is 30% per vCPU maximum.
Conclusion
It's a tool you have at your disposal but it's probably the least used one. It has limited uses case due to it's limitations. For most scenarios you're better of leveraging virtual machine reserve or the relative weight. These are more flexible and are only enforced when needed, providing a smarter use of resource.