Time to call it quits for this year. So let's look a back.
Work
One thing to me has always been true, there is no shortage of work to be done, only jobs. Often there is a lack or resources (skills, money), guidance & situational awareness, but never ever of work.
I saw many friends & acquaintances excel, progress and reap the rewards of their hard work. That it was both encouraging and served as a reminder that we all need luck but that it helps to be ready to seize the opportunities given. One of the reasons I have seen people move is that they're tired of being a resource to be squeezed & seeing their hard work only benefiting some one else's career. It's not about making more money, but about enjoying your job. It serves as a reminder to look after yourself, not just financially, remember to have some fun in your work!
My respect for some of the people serving or working in the SME market was also renewed. A lot of them are competent, hard working and are making a difference that goes way beyond what their company's size would lead you to believe. The reason is simple, in larger organizations thing get way too political. People get bogged down in analysis & paperwork resulting in ever less results at ever increasing costs. in smaller companies, you either deliver or are asked to leave. I helped some of them out through my blog, presentations and experience and I loved being able to do that.
2014 was busy and productive. Technology wise we've been able to deliver Windows 2012 R2 to so many workloads and we've taking Hyper-V to be all it can be. Working on Windows Server 2008(R2) feels retro to me now and I get a total prehistoric sense when logging on to Windows Server 2003(R2). I did the latter only to get rid of it during some last migration projects (RADIUS, Certificate Authorities, …) where I helped out. What can I say, some people get a warm, fuzzy feeling when they know I'm handling their migrations and infrastructure. It's been a honor and a privilege to assist them.
Cloud wise identity, SSO, multifactor authentication & load balancing are technologies of interest to make on premises and cloud work in harmony.
The DELL servers, network and storage gear we use has served us well & we optimized the use of it big time. No surprises there, we select our gear with care for a purpose. What does stand out  as a big change is moving to VEEAM as my preferred backup solution. I can only say, we should have done it earlier.
Community & growing
Professionally the interactions and support given and received by my community buddies and the interaction with the IT industry was nothing short of amazing this year. I met many new people in the industry and I was pleasantly surprised by them being so open about the challenges & issues we're all facing. It helps to talk to people who are way smarter and more experienced than yourself, it helps us grow. I even got to talk to Michael Dell, who took the time to listen and answered more directly and to the point than I have ever experienced before from any manager.
One personal professional high light was joining @virtulalpcguy  (Ben Armstrong) on stage at Tech Ed 2014 North America.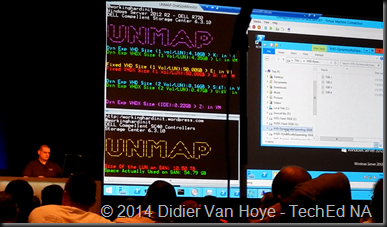 I'm passionate about technology and it's ability to deliver value when done right. Sharing how to do this is my way of giving back.
Work, time & cost control kept me away from last (ever?) Tech Ed Europe 2014. The first time ever this century I missed it, bar in 2011 when they didn't bother organizing one at all. But I presented at ITProceed, attended the Global MVP Summit 2014, presented at the Berlin Technical Summit 2014 and at Experts Live 2014 in Ede. All with great success. The value of engaging in the community cannot be ignored. You gain so much more by sharing than you do by hoarding.
Q4 2014 also brought us the Windows Server vNext preview bits, a couple of weeks after the "threshold" airlift in Redmond and I started my early experiments the day I got hold of it. We have not seen everything yet of what's coming but I'm looking forward to RTM already based upon what we know.
2015
I expect to see companies continue to struggle with the speed of change. Partially due to the fact the don't look up and see what's happening as corporate politics dominate the actions. Partially due to the fact that they follow dogmas instead of reality in sometimes desperate ways to keep a grip on things as they find comfort in following rules & methodologies. This all make them easy victims to sales people with little to show for it in real results.
Ladies & gentlemen, 2014 was a blast. 2015 is in front of us. Technology wise this promises to be a very interesting year. I hope it will be for you as well. With what we've learnt so far about the various vNext releases , it's looking good. A lot of change is upon us and not just technically. We'll see where we'll end up in Q4 2015.
To all the guys and galls all over the globe that have moved to better places, well done & well deserved, may 2015 be equally good or even better to you. Thank you for reading and may you all have a wonderful, healthy and successful new year