What are the Veeam community editions?
Veeam is introducing the Veeam Community Edition for Veeam Backup & Replication and Veeam One. It actually already has the community edition for Office 365. Up to now, Veeam offered a free edition of VBR but that was, while good and helpful, limited in use cases. The tech community at large used it for many "one-off" situations. In combination with the free edition of the Veeam Agents for Windows and Linux, you could already protect your physical hosts and the VMs running on them.
With the community edition, which offers offer more functionality and capabilities than the free edition, allows us to get started with Veeam at zero cost. This is a smart move, a small company can leverage the Veeam Suite now without any hassle and if they like it can easily move to a paid version that allows for more users and, if needed, more features and capabilities. Let's give a warm welcome to the Veeam community editions!
Veeam community editions
Veeam backup for O365 community edition
This was the first community edition that Veeam made available in 2018. It offers full functionality with the following limitations:
Maximum # of Exchange Users: 10
Maximum # of OneDrive for business users: 10
The maximum amount of SharePoint data protected: 1 TB
Best effort support
Veeam backup community edition
The Veeam Backup Community Edition becomes available with VBR Update 4. I have played with it during RTM and it worked flawlessly in my 100% physical Windows Server 2019 lab and with a mix of Windows OS versions on the hosts. You do not need a license. You just install VBR 9.5 U4 without a license file and you have the community edition. Easy. The Veeam Backup Community Edition has the Standard functionality but it is limited to 10 Instances.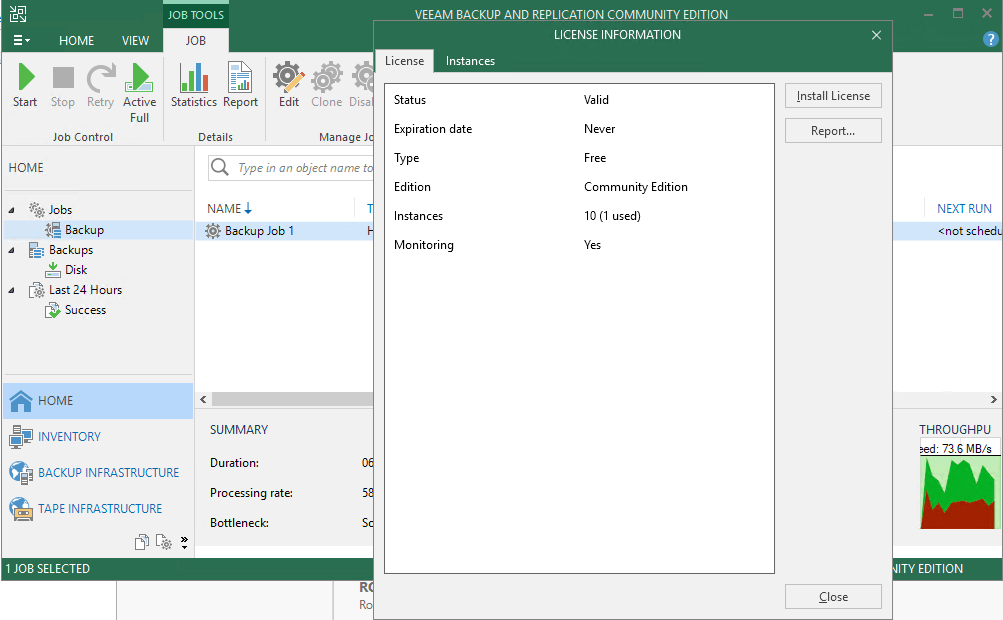 Veeam ONE community edition
The Veeam ONE Community Edition will be released later this year. It allows for only 1 Veeam B&R (paid or community edition) to be added and it has the following limitations:
Partial application level monitoring
Partial backup repository heatmaps
No email customization
Some reporting functionality is not available
…
An overview of what you get with the community edition
Look at the matrix below. You get a lot with the community editions, even integration with the Veeam Agents. A freelancer or small company it is an absolutely superb way to get started with rock-solid data protection and a recovery strategy. As a partner or consultant, it is super easy to drop these versions in an existing environment and let the customer get a taste of the licensed editions. If the Veeam community editions do all you need, well that's it. Enjoy it courtesy of Ratmir Timashev & Andrei Baronov.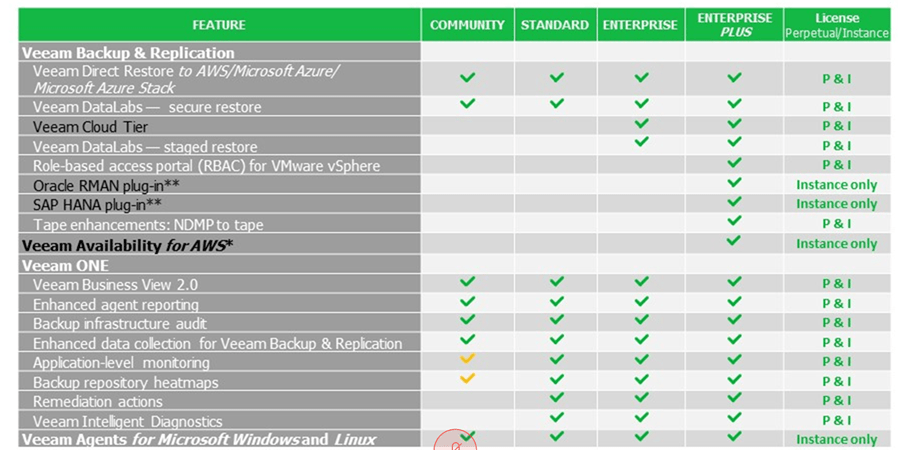 In a later blog post, we'll take a look at Veeam Agent for Windows 3.0 as this version has some nice capabilities that really make it hit the sweet point.