Being a Microsoft MVP and "The Big Ask''
I'm proud to be recognized once more as a Microsoft Most Valuable Professional (MVP) in 2017 for the Cloud and Datacenter Management expertise. It's fantastic to be part of that community and I enjoy the feedback, discussion between my fellow MVPs and Microsoft. So what's all this about Being a Microsoft MVP and "The Big Ask'' you might wonder?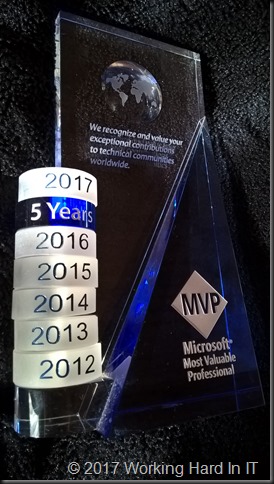 Many readers have reached out for help lately.  I hope that, at least, I have guided you towards the information and knowledge to find a solution. Please understand that I cannot help out everybody out there individually. With a job to do, community efforts, a life and only 24 hours in a day, there is a limit.. So yes, it's a big ask, but I also enjoy the learning and the interaction. So don't get me wrong on this. I love doing it.
I hope I can keep learning, growing and sharing in this industry for many years to come. I'm looking forward to some "out of the box" solutions based on Microsoft technologies in 2017-2018. The aim is  to offer the best possible solutions fast, good & affordable. These will be shared via this blog and the community for the benefit of you all!
Thank you reading!