There was some very interesting news last week at the Microsoft World Partner Conference (WPC). Bromium and Microsoft announced a strategic partnership, Microsoft is now endorsing Bromium micro-virtualization and is aligning with Bromium in adopting a security architecture based on isolating critical information on the endpoint in Windows 10. The combination of Bromium and Windows 10 results in the most secure PC available today. You can read all about it here Bromium Partners to Bring Micro-virtualization to Windows 10
Bromium has been around for a while and I have always like the concept. Instead of trying to aim for a 100 percent secure system they acknowledge this is impossible. This means they realize that systems will get malware, zero day exploits, etc. Trying to provide complete protection is impossible. Try and you will fail. This means that we can play with a popular saying and state that "failure is not It's a certainty".
Just like any secured system, like a ship for example, the idea is to accept that there will be unavoidable breaches. To mitigate the risk you need to minimize the impact of these breaches. That's what the water tight doors, the compartmentalization and isolation in ships are for. Banking on a 100 % success rate in avoiding breaches is just unrealistic. Bromium uses this same concept.
When breached It will limit the damage to as small and isolated environment. A temporary environment for that matter, something ships can't do. Bromium runs every process on the machine in a hardware isolated micro VM, which is based on hardware virtualization technology (minimally VT-x or AMD-V).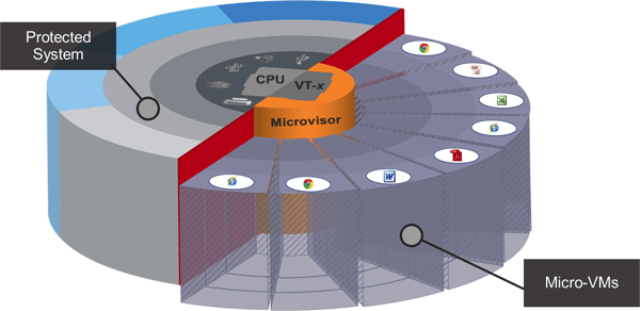 Figure courtesy of Bromium
This goes pretty far. Not the internet browser level or e-mail client but every tab and every e-mail you open is isolated this way. If your browser tab gets compromised by a zero day exploit the infection and damage is limited to that browser tab. Or your e-mail message or you word document. All your other documents, browser tabs and word documents are protected. You get the idea. Even better when you close that word document or browser tab, the isolated micro VM in which it existed disappears together with the infection.
Figure courtesy of Bromium
This fits in well with Microsoft its own initiatives. Windows 10 leverages hardware security features such as UEFI secure boot, a Trusted Platform Module (TPM) and virtualization to provide a more secure computing environment already. Windows Server 2016 leverages the combination of hard ware technologies and the hypervisor to create a "Virtual Secure Mode" (VSM) to deliver shielded virtual machines.
While nothing is perfect it is an interesting approach as it protects against the unknown, isolates, minimizes impact and discards malware infections. It buys time to react and respond more long term to threats once they're known while providing protection even when still unknown. Whereas anti malware only protects against known threats and is very reactive in nature.
Read more here http://www.bromium.com/products/our-technology.html and have a look here How does Bromium protect you?