It's that time of the year again, when TechEd is coming closer. I'm attending the European Edition in Madrid, Spain. But I can guarantee you I will be on line a lot during the USA edition as well. At be attending the USA edition this year if I could but work, time and budget wise I can't make that happen. This isn't because the European edition is less, absolutely not. The reason is that at MMS2013 in Las Vegas last month we got the heads up that Microsoft will start talking publicly about the new version of Windows and I'm game for that. Windows Server 2012 is the best Windows version ever but I know what I'd like to see in there to make it even better. I'm kind of curious if anyone at MSFT follows my thinking on this subject. I hope so!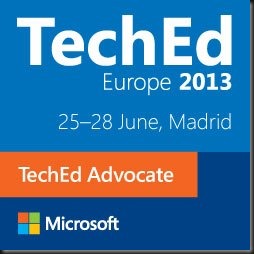 So yes I'm a TechEd advocate, you bet! If you want to know why, read my blog post here on https://blog.workinghardinit.work/2010/06/05/why-i-find-value-in-a-conference/.
Come and learn amongst your peers, network with them and industry experts. To become competent and gain expertise you are going to have to get out there and expose your ideas, insights and thinking to your peers around the globe. That's how it works. To those who dismiss quality conferences like this I can only say that you are wrong. To those who claim it's a paid holiday I can only say that to a liar all other men are liars and to a thief all other men are thieves.  Enough said. Invest in knowledge and competence development, it will pay of better than some extra thousands of € in the bank!
So if you can please join me and attend TechEd. It's a blast and a tremendous learning experience. I never ever miss attending TechEd, not even at times it wasn't easy for me to do so. You can register here. I hope to see you there!