I can start of the new year at the office tomorrow by whishing everyone a great 2014 and talking to the CEO about making sure we schedule/budget for the MVP Summit in 2014 as I just got this e-mail in: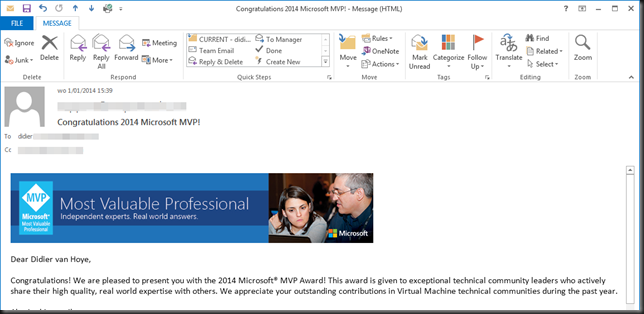 This is great news. Somewhere this month, a box will arrive at my house with a new ring for the award trophy and a new MVP Certificate. The trophy itself stands proudly on a cupboard in my parents living room. I might have earned the award, but they made sure I was given the little backpack with the values & the education to make that possible. And while they don't really understand the technicalities of what I do, they think the world of it when I fly of to the USA because Microsoft likes to talk to me

.
While you get the MVP award for contributions over the past year to the community you must realize that being active in the community is a very rewarding endeavor in itself. No, it's not like you can put a hard dollar amount on it, nor want to. The value is that you help out a lot of people and in return effectively crowd source your IT issues to a global community. It help other and yourself learn and grow. We constantly need to figure out a lot of things in our line of business. Studying, thinking, analyzing, designing, implementing & supporting a wide ever changing IT stack is not a one person or one team job. Sharing insights & experiences (both good and bad) with your peers helps a lot. You grow a global network of highly motivated, experienced & skilled people. A network you can leverage & consult when you need it. A network that you contribute to when you can, where you can. That's what it's about. The cost of participating is dwarfed by the return as many hand help make hard work easier. Good bosses & smart organizations have figured this out. During a panel discussion at Dell World Jonathan Copeland used the metaphor that it take a village to raise a kid. I added to it that one day that kid needs to leave the village and go out into the world. Being active in communities helps with both. I've also talked about this here.
I'm very happy with my 2014 MVP Award. I cherish the interaction with my fellow MVPs and Microsoft. The 2014 MVP Global Summit is already on my agenda. I'm grateful for the opportunities it brings and the continuous privilege of learning & sharing. See you all on line, at conferences, think tanks & community events & in Bellevue/Redmond.